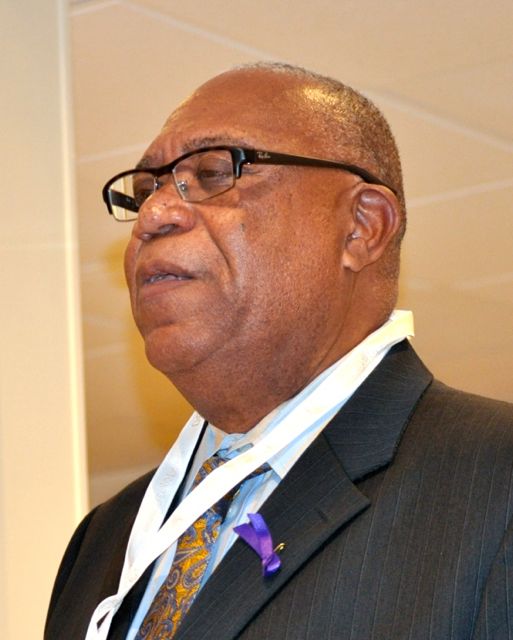 At the annual meeting of Family Resource Center Inc. on Thursday, Schneider Regional Medical Center Chief Executive Officer Bernard Wheatley presented the nonprofit agency's board and staff with statistics illustrating the hospital's challenges with violence-related visits.
The FRC provides services for victims of violent crime, including domestic violence and sexual assault, on St. Thomas, St. John and Water Island. Among those services are intervention, counseling, emergency shelter and court advocacy.
Wheatley was invited to be the keynote speaker at the agency's meeting and to update the staff on the state of violence-related visits at the hospital.
"In our emergency room we see many cases of violence against women, but also men," said Wheatley.
When FRC was founded in 1981, its name was Women's Resource Center, but it has since expanded its programs to serve male victims of violence.
Wheatley said that according to the U.S. Department of Justice, a higher percentage of women than men are victims of violence from an intimate partner or relative, but men are more likely to suffer violence at the hands of non-relatives.
As of August, Schneider Regional Medical Center, which includes the Myrah Keating Smith Community Health Center on St. John, had treated 23 victims of gunshot wounds, 24 stabbing victims, 64 victims of rape and 54 victims of blunt force trauma due to assault in 2015 according to Wheatley.
From 2010 to 2015, treatments totaled 272 victims each in the categories of gunshot wounds and stabbings, 954 victims of rape and 934 victims of blunt force trauma due to assault.
Wheatley said that those numbers referred to patients who were treated and did not include the victims who died before they could reach the hospital.
"These crimes not only affect our safety but they also have a financial impact on the hospital," said Wheatley. "In most cases the patients seen at our facility as the result of violence are uninsured."
He said 58 to 70 percent of victims of violent crime who were treated at Schneider between 2010 and 2015 had no health insurance at all. Gunshot wound victims were the least likely to have any form of health insurance.
Total charges for treatments of gunshot wounds from 2010 to 2015 amounted to just under $4.5 million. Treatments for stab wounds cost close to another $1 million. Rape and assault treatments cost $2.8 million and $3.8 million respectively.
Wheatley said the majority of these costs fall under the category of uncompensated care, which he defined as "care provided for which no payment was received from the patient or insurer."
The medical center receives funding from the federal government to cover uncompensated care, but that amount has been reduced by 29 percent since 2008.
In 2008 the hospital's uncompensated care appropriation was more than $30 million. For Fiscal Year 2016, which began Thursday, it will be $22.4 million.
"In this business, that's really really cutting to the bone. Going below the muscle," said Wheatley.
In 2014, uncompensated care at Schneider totaled $28.7 million. Wheatley estimates that uncompensated care for Fiscal Year 2015 will total $25.2 million, a figure which is less than last year's, but more than funds appropriated for that purpose.
In addition to hearing from Wheatley at its annual meeting, held at Bolongo Bay Beach Resort, FRC unanimously reelected board members Sheena Conway, Nicole Phipps, Neville Lloyd and Ruth Ann Magnuson, and welcomed new members James Carroll, Mary Gleason and Josephine Magras-Baker.