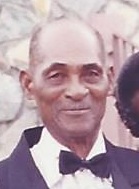 Claudius James Hobson, better known as "Twine," of Frydendahl died on Aug. 30 at the Schneider Regional Medical Center. He was 87 years old.
He is survived by his wife, Leanola Hobson; children: Anika Bussue, Caroline Hobson-Barry and Samuel Hobson; brother, Alfred Williams; sisters: Rosetta Hobson, Albertha Daniel, Puretta Wilkins and Miriam Maynard; 13 grandchildren; 12 great-grandchildren; nine nephews; four nieces; special cousins: Johnson Ward, Yvonne Hodge and Janet Weeks; adopted family, Errol Goodings and family of Coki Point; special friends: Joachim (Jack) Celestine, Maurice Dore, the Lake Family of Smith Bay, Orville Rouse and family, Ralph Henley and the entire Smith Bay Community.
The viewing will be held at 9 a.m. and the funeral service at 10 a.m. on Thursday, Sept. 10, at Celestial Chapel at Hurley Funeral Home. Interment will follow at Coki Point Cemetery.