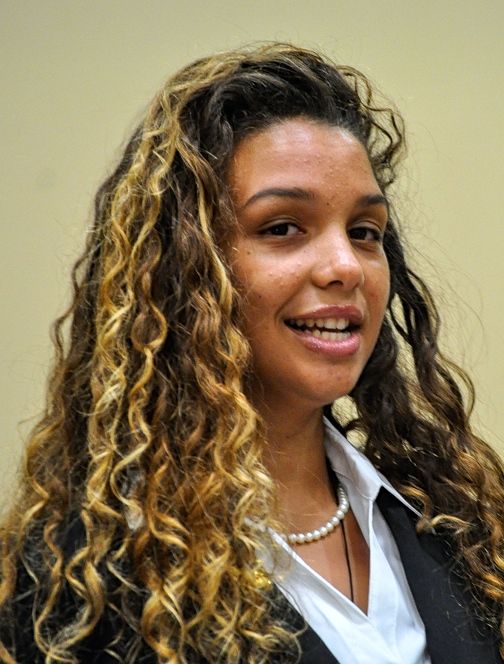 Jonisha Aubain, an incoming senior at Charlotte Amalie High School, was selected by a panel of judges to be the 2015 junior commissioner of Tourism on Friday. Aubain was awarded the title after a tough competition against St. Croix Educational Complex student Tywreh Nelson at the Department of Tourism Welcome Center on St. Thomas.
Aubain, who describes herself as a "happy person, with a habit of smiling," will travel with Tourism Commissioner Beverly Nicholson-Doty to Curacao in October to participate in the Caribbean Tourism Organization's State of the Industry Conference. There Aubain will be part of a regional student competition.
She is a member of the National Honor Society, the president of the CAHS book club, and the founder of the school's marine biology club. Aubain said she enjoys singing, dancing and the outdoors.
The Department of Tourism's 2015 Junior Commissioner Competition consisted of two rounds. In the first, Aubain and Nelson each gave a three-minute presentation on a new initiative they would introduce to the department. The contestants were given three subjects to choose from: volunteer tourism, green tourism or film tourism.
The territory's environmentalists will be pleased to learn that both Nelson and Aubain opted to present ideas related to green tourism, displaying how important the issue of environmental sustainability is to young Virgin Islanders.
Aubain proposed changes to the annual two-week NCAA basketball tournament Paradise Jam, the V.I.'s second highest attended tourism event behind Carnival, that would make the event more green.
Her proposal included installing solar panels and LED lighting in and around the UVI Sports and Fitness Center, a park and ride system to transport people to the event, a change in concession menus, the introduction of biodegradable food containers and a complimentary reusable souvenir cup.
Aubain said that serving local fruits, juices, vegetable salads and pates at the event instead of nachos, hot dogs and sodas would benefit both health and local farmers.
She also recommended the use of food containers made from biodegradable cornhusks and reusable souvenir cups to be included in the purchase of a season ticket. Aubain said she would encourage people to use the cup by giving concession discounts to those who use it.
"Saving Mother Earth should be our generation's top priority, one event at a time," said Aubain.
Nelson's plan was similarly eco-friendly. He suggested a three-step anti-plastic campaign during the St. Croix Agriculture and Food Fair. He said that the three-day event generates waste that can be reduced by the use of reusable bags and cups.
While Aubain and Nelson had time to prepare at home for their presentations, round two of Friday's competition was more difficult. The contestants each drew a "mystery question," which they had two minutes to respond to.
Nelson drew a question asking what ideas he had to ensure the cultural authenticity of the territory's tourism product. He responded that he sees increasing the availability of local foods to visitors as essential. He also said that after working at the cruise ship dock on St. Croix as an intern this summer, he thinks the dock needs more cultural events and displays onsite for cruise visitors.
Aubain drew a question asking what strategy she thinks the V.I. should take to stay competitive in the region with the reopening of Cuba.
She gave an impassioned answer about the importance of protecting and promoting the natural beauty of the Virgin Islands. She said that the green hills and clear waters of St. Thomas, St. John and St. Croix are the territory's greatest asset, and that visitors should not be presented with a "a concrete wall."
Aubain said her plan to stay competitive involved using media to promote the islands' natural beauty around the world.
"We should become global. We should start to use the media to our advantage," she said.
The competition's judges, Nissa Bailey, Janelle K. Sarauw, and Tischelle Simmons, said they were impressed by both Nelson and Aubain, but ultimately chose Aubain to be the territory's next junior commissioner of Tourism.
Both contestants will remain involved with the department. Nelson will continue his summer internship, and will train alongside Aubain in the event that she is unable to attend the Caribbean Tourism Association Conference in October.
Nicholson-Doty said that she is also planning to increase the role and visibility of the junior commissioner in the territory.
"The junior commissioner is going to be working more closely with the department in representing us and being with us at events, and really being more integrated into the process," she said.