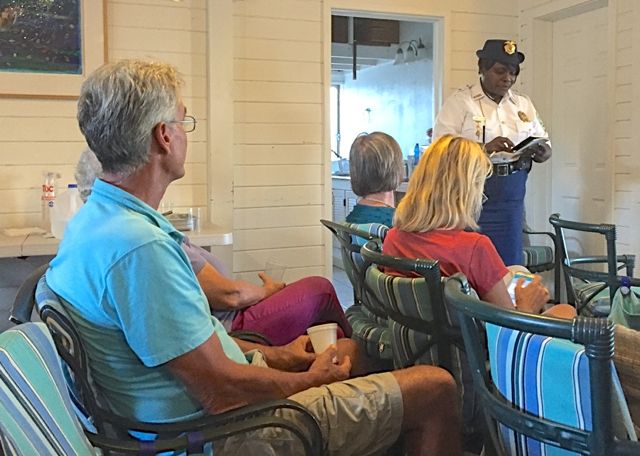 The purchase of a few inexpensive decibel meters would assist the Virgin Islands Police Department in enforcing the territory's laws against noise disturbances, said Sen. Almando "Rocky" Liburd in a letter to Police Commissioner Delroy Richards Sr. dated Aug. 5.
"Without these tools, [anti-noise] law will remain unenforced," wrote Liburd.
Liburd's letter was presented Monday to residents of St. Thomas's East End by representatives of the Community and Police Association at a town hall meeting at Paradise Cove's Inspiration Hall. CAPA is working with the VIPD and the Red Hook Community Alliance to address complaints by Red Hook residents regarding noise violations from the area's late-night bars. CAPA has also worked to identify and address community concerns in Savan and Smith Bay.
Liburd wrote that the issue came to his attention after a meeting between CAPA, RHCA, and East End residents on Aug. 3 at which numerous individuals living in the Red Hook area expressed frustration at loud music that sometimes keeps them up until 3 a.m. Countless calls to police have been made, they said, but little has been done to resolve the problem.
"Title 19, Section 6 of the V.I. Code speaks to restrictions on noise and loud music," wrote Liburd. "However, it appears our officers have difficulty enforcing these laws given the lack of equipment to accurately monitor decibel levels."
V.I. law defines a noise disturbance as any sound over 75 decibels that "unreasonably interferes with the enjoyment of life, quiet, comfort or outdoor recreation of an individual of ordinary sensitivity and habits."
Liburd suggested that the Police Department purchase "a few" decibel meters, which he said range between $20 and $90, in order to determine what businesses and individuals are in violation of the V.I. anti-noise ordinance. Due to the price of the equipment, legislative appropriation would likely be unnecessary, he said.
In his letter Liburd also said setting up a hotline or website dedicated to noise complaints is a way that other jurisdictions have addressed the issue without tying up emergency lines. As noise complaints against specific offenders accumulate through the website or hotline, police can focus their efforts accordingly, he suggested.
East End residents also heard from Eugene Farrell, the governor's new senior policy advisor on law enforcement, who attended the meeting.
Farrell said that he would like to see open-air bars that are known as late-night dancing spots be licensed as nightclubs, ensuring they would have to enclose and sound-proof their properties.
"If you want to sit in Duffy's and listen to music, it should be limited just to a small speaker outside. If you want to dance, you go inside the building where it's enclosed with glass," Farrell said to applause from residents.
RHCA President Andrea King said that one of the reasons many bars remain open-air establishments is that energy costs for air-conditioned buildings in the V.I. remain too costly.
Monday's meeting was not the first time community organizations and government officials have attempted to address Red Hook residents' complaints about late-night noise disturbances in the area.
In 2011 former Sen. Craig Barshinger hosted a town hall at which Red Hook residents and business owners attempted to find a compromise over music volume levels. Attendees who were present at that meeting remembered it on Monday as "antagonistic," and said that little has been done to address the problem in the years since.
Also present at Monday's meeting was VIPD Lt. Sandra Colbourne, commander of Zone C. Colbourne vowed to work closely with the community in making sure their concerns are addressed.