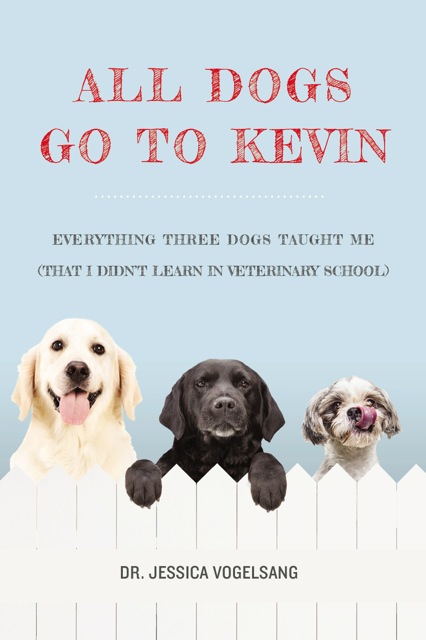 "All Dogs Go to Kevin" by Dr. Jessica Vogelsang
c.2015, Grand Central Publishing $26 325 pages
Your dog knows all the basic commands. He can SPEAK, indoor voice and outdoor voice. He's got SIT all buttoned up, with his behind planted firmly on the floor. He can STAY all day long if you need him to and he FETCHes like a pro – which is great.
You'll need him to fetch you some tissues when you read "All Dogs Go to Kevin" by Dr. Jessica Vogelsang.
With few friends and a need for solitude, nerdy teen Jessica Vogelsang knew that she was expected to attend college but she wasn't happy with her choices. Being a doctor "was the most palatable option," but by her senior year in college, "the luster had worn off the idea" and she was "completely confused." Stubbornly determined, she soldiered on, until the day she followed students into a lab to observe surgery on a pig.
She graduated, went home and enrolled in veterinary school.
Vogelsang came late to being an animal lover.
When she was 8 years old, her parents allowed a Lhasa Apso named Taffy into the household. The dog was grumpy but Vogelsang understood, since she also just wanted to be left alone. Taffy was the first dog she loved and she was rightly upset when, years later, her mother had the elderly pooch euthanized without notice. Really, though, as a veterinarian, Vogelsang understood that too.
A seize-life-by-the-throat kind of guy named Kevin had introduced Vogelsang to the man who would become her husband, and she was married by the time Taffy died. Her dog's death made Vogelsang long for the pitter-patter of little puppy feet, so she and her husband adopted a Golden Retriever, Emmett, who'd been abandoned.
He ultimately saved Vogelsang's life.
Goldens, however, are prone to cancer, which is what befell Emmett, who lived long enough to see two children born to the family. His death left a void that Vogelsang couldn't bear and her children couldn't grasp: in a misunderstanding, they thought Emmett had gone to stay with family friend, Kevin.
Not forgotten, Emmett gave way to Kekoa, then Brody, then…
We like to believe "that… we own [our pets]," says Vogelsang, at least until the "lease has expired." The truth is, "We teach our dogs to 'stay,' but they never do."
It's really quite trite to say "I laughed, I cried" at this book. I know it is, but I can't help it: that about sums up what I found in "All Dogs Go to Kevin."
Author Dr. Jessica Vogelsang doesn't just write about dogs, though. This is also a book about family, friendship, untimely loss and making dreams come fearlessly true.
It contains those behind-the-scenes tales and unique client stories you expect in a book by a veterinarian. We learn an important lesson about new motherhood that's "delivered… by a Golden Retriever."
And yes, if you've ever loved and lost a pet (particularly, a dog), this book will make you laugh and you'll cry.
At the very least, for sure, "All Dogs Go to Kevin" will make you SIT for awhile.
__
The Bookworm is Terri Schlichenmeyer. Terri has been reading since she was 3 years old and never goes anywhere without a book. She lives on a hill in Wisconsin with two dogs and 12,000 books.