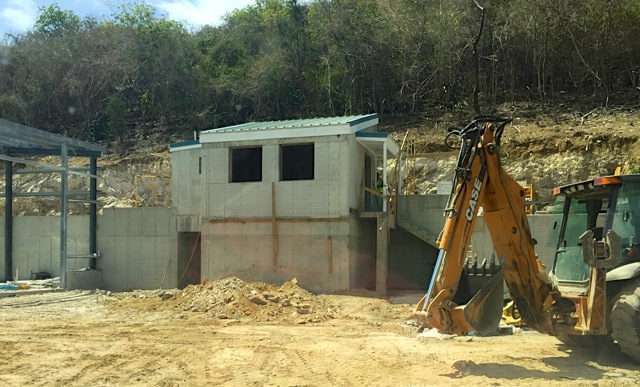 Construction of St. Thomas's first waste disposal Convenience Center is between 60 and 70 percent complete, the V.I. Waste Management Authority said Wednesday. The center, which is being built at the former site of the Mandahl collection bins near the Mahogany Run Gulf Course, is part of an effort to replace bin sites with a cleaner, more consolidated waste collection system.
Convenience Centers, according to VIWMA press material, are "facilities that provide one or more portable waste containers which are used for the collection solid waste for transport to a solid waste disposal site."
Mario Leonard, director of solid waste for the St. Thomas-St. John district, said that the VIWMA expects to eventually construct approximately four Convenience Centers on St. Croix, two on St. John, four or five on St. Thomas and one on Water Island. The average estimated costs of building the centers is approximately $1 million each depending on size and services offered, he said.
The first Convenience Center in the territory opened in Peter's Rest on St. Croix in 2013. The others are in various planning or design stages.
Open Bins around the territory are expected to be slowly phased out, a process which has already begun.
Of the 26 disposal sites listed for St. Thomas on VIWMA's website, 19 are currently in service. That number will rise to 20 when the Mandahl Convenience center is operational. Four disposal sites are currently in service on St. Croix and 25 are in service on St. John.
Leonard said that bins and carts are removed for various reasons including health and safety, as with carts removed from Commandant Gade on St. Thomas this month, environmental reasons, or at the request of property owners where they were initially sited without contracts.
All bins of six, eight and 20 yards, however, will eventually be removed from service, Leonard said, as the territory moves to a fee-based collection system. House to house collection will be expanded to serve most residents who previously utilized bin sites.
"A variety of vehicle types will be employed to traverse the steep slopes, narrow roads and stair streets in areas like Garden Street," Leonard said, referring to a difficult road on St. Thomas.
The VIWMA is attempting to address requirements mandated by federal consent decrees by developing infrastructure for recycling and waste-energy programs, said Leonard, but funding is currently a problem.
"Significantly more resources are needed than what is currently being spent, at least in the near term," he said.
Margaritaville Resort has committed to donate a half-acre site for a Convenience Center in Smith Bay. Funding for construction, however, is still to be identified.
The VIWMA said it is currently working with the Smith Bay community to identify a temporary site to replace bins that were closed near the entrance to Margaritaville on June 19, Leonard said. In the meantime, residents will have to utilize bin sites at Nazareth or other locations.