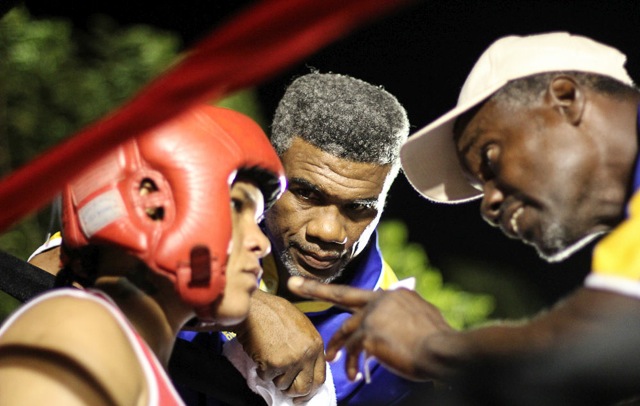 Switching up their usual routine, USVI Amateur Boxing Federation officials brought the ring to Yacht Haven Grande over the weekend and invited up-and-coming boxers from Puerto Rico and the British Virgin Islands to showcase their talent alongside more than a dozen amateurs from St. Thomas and St. Croix.
The grounds were packed Saturday for the event and, at the end of the night, the territory came out on top with St. Thomas's own Cuthbert Dabrio being named best fighter, while decorated St. Thomas amateur Jose Peguero took the award for best fight with his win against Puerto Rico's Jonathan Nacio.
St. Thomas boxers train daily at the Paul M. Pearson Gardens gym run by three-time world champion boxer Julian "the Hawk" Jackson, who was ringside Saturday with coaches David Rogers and Susthens "Joey" Vialet.
While a handful of the amateurs hope to eventually turn professional, Jackson and Boxing Federation President Jose Rosario have said that most of the fighters come to be part of the routine and learn life skills such as discipline and determination.
Saturday's fights gave even the youngest of the program's amateurs a chance to compete and hear their names cheered by the crowds of family members, friends and community residents. Up first for the evening was 12 year old Ramoi Brathwaite, whose exhibition bout against Puerto Rico's Luis Cruz gave the Lockhart Elementary School student the chance to work on his jabs, body shots and stage fright.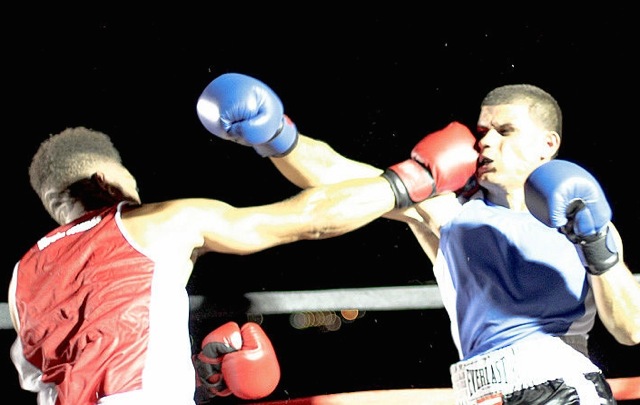 "I was a little bit nervous," Brathwaite said afterward. "But I enjoyed being up there. I heard people cheering for me and I calmed down so I could listen to my coaches. It was a great experience."
The exhibition bouts also gave 24 year old Cindy Claudio, an emerging professional, a chance to practice and focus on her technique. The bout was not scored because of the age of Claudio's opponent, 16 year old Yarismar Fenandez Ocasio, but Claudio took it in stride, while her large cheering section still screamed and held up signs while she was in the ring.
"I just focused on establishing my jab while I was out there. I'm pretty confident in my jab, and keeping a good range," Claudio said afterward. "That's all the stuff I keep focusing on when I'm in the gym too."
Several St. Croix fighters hit the ring Saturday night, including 17 year old Eric Thompson, who showed his aggression during another exhibition bout against St. Croix's Angel Guerrero.
"If that match was scored, St. Croix would have won," Federation coach Rogers said after the fight. "St. Croix came out with a really good showing this time and showed us their natural power. Some fighters just have that. They're really looking good."
Thompson also earned praise from his own coach, Neil Corridon, who counts among his past trainees world champion fighter Livingstone Bramble.
"I've been doing this a long time, since 1971," Corridon said before Thompson came to the ring. "And I see something in this young fighter. I see a champion. It's the main reason that I took him on, and after this, we're going to head back to St. Croix and continue working hard to achieve his dream of being a professional fighter."
In other bouts during the night:
– St. Thomas' Michael del Rosario defeated the BVI's Demio Martin, 3-0;
– Puerto Rico's Efrain Perez defeated St. Thomas's Kalin Lopez, 2-1;
– St. Thomas's Roosevelt Reinoso defeated Puerto Rico's Alexis Reyes Garcia with a first round TKO;
– St. Thomas's Juan de Dios defeated St. Croix's Joshua Rivera, 3-0;
– St. Croix's Pedro Melina defeated the BVI's Camaric Bower with a first round TKO;
– Roland Evans-Freke of St. Thomas defeated the BVI's Naheem Maldonado (the bout was called by the referee 42 seconds into the third round);
– St. Thomas's Malakiy Morris defeated St. Croix's Eduan Medina;
– and the BVI's Andrew Lettsome defeated St. Thomas's Nixon Andrew by TKO.