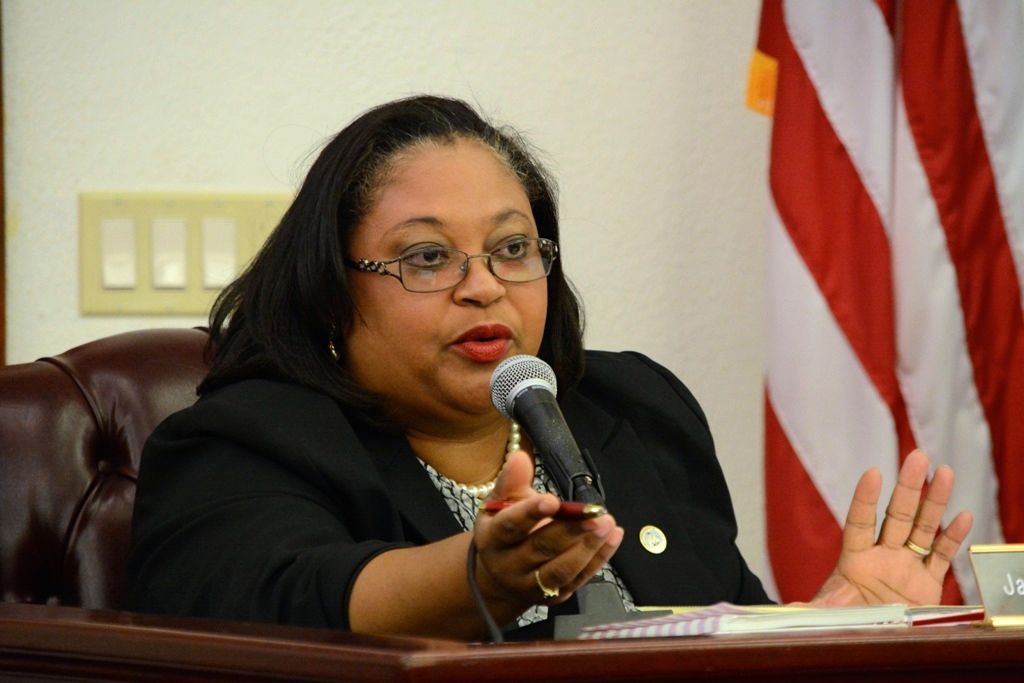 While giving a great deal of information to the Legislature on its decision to rent a $12,000 per month villa for Gov. Kenneth Mapp, West Indian Co. Ltd. officials drew a line in the sand on Thursday, saying they were not required to supply internal information and were also prohibited from doing so.
The Senate Committee of the Whole met Thursday to get information on how the controversial decision to pay Mapp's rent was made and to discuss what should be done regarding future governors' living arrangements and security.
Preparing for the hearing, Senate President Neville James sent WICO a request June 18 asking for the orders and all the minutes from WICO's board meetings where WICO considered and approved renting Villa Fratelli Cresta on Mapp's behalf.
WICO President Joseph Boschulte submitted testimony refusing to turn over its records, asserting it is not required to do so under V.I. law requiring open records of government agencies because the government-owned entity is not "a purely public entity." Boschulte sent a letter, dated Wednesday, the day before the hearing, providing the orders but refusing to provide minutes.
Boschulte cited a court case that found a WICO employee did not qualify as a "public employee" for the purpose of a federal labor law.
"WICO must respectfully decline the production of the minutes," Boschulte wrote. "Based on the recent court decision WICO cannot take a position inconsistent with the court's interpretation of WICO's status and must respectfully decline the production of WICO's meeting minutes." He cited the federal civil suit Sprauve v. West Indian Company Limited.
That case, a wrongful termination suit, was dismissed, with U.S. District Court for the Virgin Islands finding "WICO employees are not 'public employees'" for the purpose of federal labor law. Boschulte highlighted text from the decision that says "(a)dditionally, as WICO is not a purely public entity, it will not be deemed a 'public corporation.'"
Boschulte quoted the V.I. Public Records Act, which says ""public records" includes all records and documents of or belonging to this territory or branch of government in such territory or any department, board, council or committee of any branch of government." He emphasized the final phrase "any branch of government," by putting it in bold and cited the court case's conclusion that WICO employees are not government employees.
Sen. Jean Forde and other senators asked why WICO was not obligated to supply this information at the request of its owners – the V.I. government, as represented by the elected Legislature.
Boschulte deferred to WICO legal counsel Adriane Dudley, who recounted the same legal argument Boschulte presented the Legislature in writing, citing the same case of Sprauve v. WICO, which is pending appeal.
"As a result, because the case is in fact pending appeal now … a decision should be issued literally any day now, in the interest of pending litigation, WICO should not take a public position, in my opinion, contrary to its position in that case," Dudley said. "I have advised WICO should be treated as a private corporation and not release except when it is pertaining to the government," she said.
Neither Boschulte nor Dudley said why not being bound by the V.I. Open Records Act would prohibit or prevent WICO from releasing the minutes. There was no testimony addressing why the Sprauve case prevents WICO's owners, as represented by the Legislature, from having a right to see meeting minutes.
"This hearing is about transparency … and so far I am a little bit disappointed in some of the testimony we have received." Forde continued, "I expected a little more information. But there is pretty much a standoff situation I am seeing," he said.
At another point, James expressed his frustration, saying "clearly there is obfuscation going on right now." James and others also said they were frustrated that Mapp's chief of staff, Randall Knight, who also chairs the WICO board, was not present.
James said he had hoped the meeting would get all the necessary answers and would be a "one-off." But with Knight's absence, there might have to be another meeting, James said.
Meanwhile, WICO board member Michael Watson recounted how and why WICO came to rent the villa, saying Knight asked the board to consider paying for temporary housing for the governor at its April 14 meeting and the board voted to cover Mapp's rent and expenses at Villa Fratelli Cresta. He said the lease was initially for $12,000 per month for two months, then increasing to $14,500 for the next four months.
"We then instructed legal counsel Adriane Dudley and CEO Joseph Boschulte to perform a more detailed research and review of the lease. In our ongoing discussions with legal counsel and the CEO, we determined that we needed to secure more favorable lease terms for WICO than were in the draft landlord document," Watson said.
"The final amount agreed upon with the landlord was $12,500 per month, inclusive of all expenses, or $62,500 for five months," Watson said. "WICO received a rebate check for the difference between what WICO paid initially and the final negotiated sum," he said, providing a copy of the check to the committee.
Asked about the legal rationale for WICO paying the governor's residential rent, Dudley said that the only residence established in law was Government House on St. Thomas. But, she said, when WICO acquired the Catharineberg estate during the Alexander Farrelly administration, it immediately leased it to the V.I. Government for $1 per year.
Dudley said the lease, a binding legal document, includes a provision saying the low $1 annual rent is conditional on the fact that "said premises shall be used and occupied solely – and I emphasize – as a residence of the governor of the Virgin Islands."
Dudley, Boschulte and Watson each said that WICO felt it should to supply temporary housing for the governor while the WICO property leased out for the governor's residence was not usable due to mold.
Sen. Janette Millin Young asked if the testifiers agreed the high price of the villa was extravagant.
Dudley responded that she believed "it is imperative to provide a residence for the governor."
Millin Young said, "The whole issue is he is living in extravagance, the whole thing is being paid for by WICO, and WICO has ceased paying taxes. That I think is the core of it all."
Dudley said there was a search for an appropriate property and not all properties meet the governor's needs for security, meeting space and so on. She also said she was not involved with the actual search for the property.
Watson testified that WICO did not plan to pay rent any longer and did not have an obligation to provide permanent housing for the governor.
"It is the position of our board that we are not responsible for providing a permanent residence for the governor of the Virgin Islands. We simply accommodated the request to pay for the temporary housing of the governor as was done in the past," Watson said.
"We are certain that, working together, the executive branch and this body will be able to determine how to meet the territory's obligation to house our chief executive now and in the future," he said.
Watson also testified that WICO passed a resolution in April to offset Mapp's rent from WICO's long overdue payments in lieu of taxes to the government, but rescinded that, and its approval of additional villa rental payments at its June 9 meeting.
No votes were taken at the information gathering hearing of the Committee of the Whole.