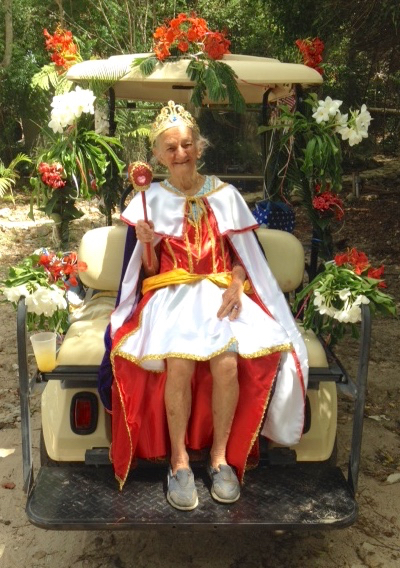 Water Island marked the Fourth of July with its "Famous Fifteen Minute Parade," sponsored by the Water Island Search and Rescue.
According to organizers, the event drew its biggest turnout since it was first launched 10 years ago. The entries were primarily many decorated Golf Carts and the Water Island Search and Rescue Fire Truck and Ambulance.
The winning entry was "Queen Elizabeth," featuring "Lelelle" Elizabeth Aubain of Frenchtown. Her winning golf cart entry was decorated with African tulips, palm fronds and frangipani. She wore a satin red, gold and white and red gown with a gold encrusted crown and scepter.
The Fourth of July parade was a fundraiser for the Water Island Search and Rescue Squad, which had a fundraiser raffle with donations from St. Thomas Main Street businesses and Water Island and Crown Bay merchants, including Heidi's Grill, and the residents of Water Island and residents of Frenchtown many of whom were in attendance.