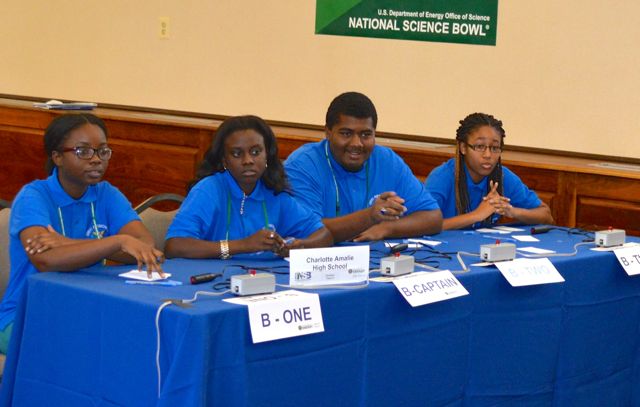 Five promising math and science-focused Charlotte Amalie High School students entered into the fray Sunday, competing head-to-head against the top high schools in the country for the National Science Bowl in Washington, D.C.
The U.S. Department of Energy National Science Bowl is a nationwide academic competition that tests students' knowledge in all areas of science and mathematics. Middle and high school student teams face off in a fast-paced question-and-answer format, being tested on a range of science disciplines including biology, chemistry, Earth science, physics, energy and math.
To say the questions were hard would be a major understatement. If you are not immersed in the study of science, many of the questions themselves could be incomprehensible, with talk of atoms' quantum states, minerals with cubic cleavage and solutions to quadratic equations.
Winning the competition was always a serious long shot, what with 50 states and several territories to compete against. And Charlotte Amalie's competitors all beat out dozens, even hundreds of other state high schools to get their spot, while Charlotte Amalie competed against one: Ivanna Eudora Kean High School. St. Croix did not compete this year.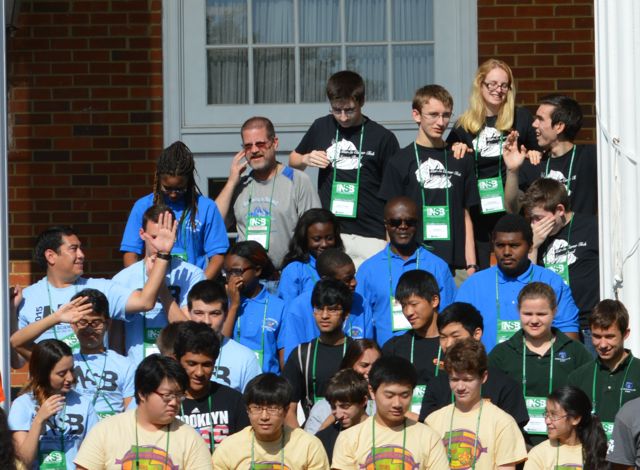 But the V.I. school did fine, with plenty of schools both below and ahead in the rankings, as their coach, science teacher Ludovic Atemazem told them. And more importantly, the team members got a good look at world-class competition, got the experience of thinking on their feet and got inspired to study even more.
(See National Science Bowl website in links below for detailed rankings)
"Some of the schools we are competing against are really, really good and it opens your eyes, seeing what you have to do. It's kind of motivating. It makes you want to take as many classes as you can," said team member Kamille Willis, a senior.
Willis said the experience convinced her V.I. students can win, but are at a disadvantage.
"We definitely have the potential to do it," but the competing students have had a greater variety of higher level math and science classes, she said.
Willis, who is heading off to the University of Miami to study biochemistry in the fall, said she wants to become an oncologist and hopes to someday help create new medicines. Willis is senior class president. Active in sports and marching band, Willis is also part of the dual credit program, taking college level courses at UVI.
Kera Smith, a junior with an interest in biology, agreed the stiff competition was a learning experience and a motivator.
"Everyone here knows their stuff. Many come from science, math and technology schools," Smith said. "The experience makes me want to go and work harder so I can come back again as a senior," she said.
Joash Lake, a senior who is heading off to Penn State to study molecular biology and biochemistry in the fall, said the entire trip had been great. "Seeing the sites (of Washington) was the best thing about the trip so far," he said. "And for some of us it was our first time taking the Metro."
Lake is a member if the UVI Jazz Ensemble. He plays the alto, tenor and soprano saxophone and also the bass and the B-flat clarinet.
Some students, like senior Quianah Joyce, had seen the city before, but were still happy to see more of it. "The architecture is very nice," Joyce said. "But it is cold. I'm freezing," she said. Temperatures were unseasonably cool, in the mid 50s.
Joyce is going to the University of the Virgin Islands to study astronomy and astrophysics. She said she likes stargazing, sometimes with a telescope or binoculars, but often enjoying seeing what she can with her bare eyes.
"Especially when the power goes off " and it gets much darker and there is no more light interfering with the view, she said. She plays drums and guitar, and along with stargazing, enjoys scuba diving.
The team's fifth member, Carmi Thomas, is a very young senior, thanks to skipping seventh grade. In school, his favorite subject include calculus and world history and he plans to major in accounting. His hobbies are basketball, steel pan and studying biblical history. He also represented the USVI at the Scripps National Spelling Bee.
Roughly 240,000 students have participated in the National Science Bowl since it was established in 1991, and it is one of the nation's largest science competitions. More than 14,000 students compete in the NSB each year, according to its website. The U.S. Department of Energy' Office of Science manages the NSB Finals competition. More information is available on the website: http://www.science.energy.gov/wdts/nsb/.