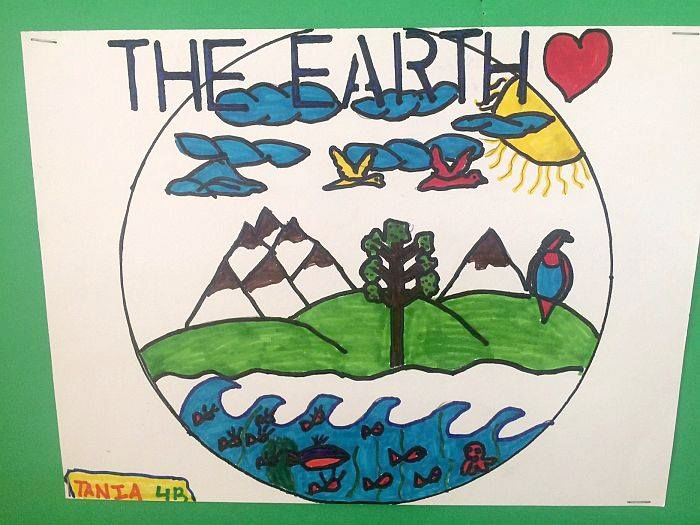 Earth Day celebrations Wednesday at Antilles School brought together everyone from toddlers to the senior class, who have rallied around a two month long eco-project, planting and distributing more than 800 tropical plant seedlings to students and staff on campus.
The school's environmental efforts picked up steam three years ago when fifth grade teacher Heather Blum put together the Green Team, an eco-club made up of fourth through eleventh graders. The club helped organize campus and community cleanups, launched an aluminum can collection program, and worked with local farmers on a recycling project that turns old plastic bottles into planters.
Last year, the Green Team added an Earth Day plant distribution project to their repertoire, with members working two months in advance to plant tropical seedlings they could distribute to their peers in the lower school.
This year, Blum teamed up with Antilles biology teacher Adam Quandt to expand the project to the middle and upper school side. Not only have many of the older students become Green Team members, Quandt said Wednesday, but they have also helped with the planting this time around.
"The students were very excited, they jumped right on board," Quandt said. "I think it is something that is gaining some momentum here at Antilles and it this exact type of project that will create the interest for these kind of environmental efforts in the future."
Even parents, such as Tropical Gardens owner Tracie Ross-Bryan, volunteered to help and were on hand Wednesday to help supervise the effort.
Two months ago, the seeds and slips were put in pots by the Green Team members, who continued to water and grow them until they sprouted. The seedlings were then transplanted into biodegradable planters and passed out Wednesday afternoon to the rest of the student body, along with the school's faculty and staff.
"We worked with second graders, fifth graders, even ninth graders, to plant and replant these seedlings with the hope of making this a collaborative project that we can all appreciate," Blum said Wednesday. "It gives us all a chance to work together in building more awareness about our environment and making this a greener school."
Lower school students were excited Wednesday to receive their sunflower, Christmas palm, flamboyant or cranberry hibiscus pots, which were handed out within the classrooms by Green Team members. On the middle and upper school side, the pots were handed out to students as they filed through the school's courtyard after the last bell of the day.
"I think it's neat that we got plants and I can't wait to get home and plant mine right away," third grader Portia Miles said Wednesday. Asked about what other things she did to celebrate Earth Day, Miles said that many of the students also picked up trash around campus and stopped using plastic cups that could be tossed on the ground and damage the environment.
"This is a day that we do as many things as we can to help our Earth," added classmate Max vanden Driessche. "Now, these plants give us something to add to our gardens and I am excited to plant mine right outside my room. I'm going to take really good care of it."