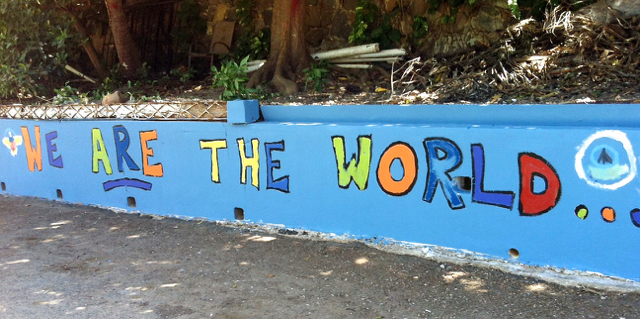 A Frenchtown neighborhood looks a little brighter this week thanks to the work of 15 art students from Addelita Cancryn Junior High School and a handful of volunteers led by volunteer teacher's assistant Cecille Arbour.
A wall in Frenchtown in Estate Honduras on the road leading west to the sandfill now shines under bright paint declaring "We are the world" in a panoply of colors.
Arbour, a Frenchtown resident, has been working on various art and science projects for several years to motivate the local youngsters and engage them in their community.
"The kids here really don't have anything to do," she said Wednesday. "The ballpark is usually used by the Little League, and if they go to Emile Griffith ballpark, they are made to feel like outsiders, and Cancryn is just for its students. They need something of their own," she said.
The mural is part of a larger project. Arbour said she designed the student-centered project to meet the American Museum Association standards. It's her dream to open an industrial museum on St. Thomas.
"I send results of what I'm doing. I'm hoping to get a sponsor from the states," she said.
Arbour hopes to get grant funding to make more community-centered learning sessions happen in the future.
Her art projects center on the theme "We are the world: I hold the world in my hands." She incorporates cultural heritage and unity, along with social resources such as dance, music and healing remedies in her wide range of interests and endeavors.
For the wall, Arbour said, "The blueprint for the wall is interactive, where the kids can engage and do their own art. It was painted by art students from longtime Cancryn art teacher Kukumga Ola-nini's class. And it's an ongoing project with room for more art."
Arbour said the work took three days, and was supported by the local business community.
"Local merchants, the Sea Chest, Gil's Cleaning Service and others helped with the materials," she said.
Arbour conducts regular science fairs and classrooms at the Gustave Quetel Fish House at the bayside in Frenchtown with the assistance of experts in marine biology, teachers and local experts in a variety of fields, from woodworking to oceanography.
She is passionate and particular about her efforts. Her projects are community-centered learning lessons which also follow American Museum Association standards.
Arbour's educational efforts have made her a fixture in the Frenchtown community. Noticing the profane graffiti in a small park a couple of years ago, she single-handedly rounded up the neighborhood kids to paint over the "bad words," which resulted in a mural – a collage with each child's individual painting ranging from a baseball player to admonitions to behave and "not use drugs and bad words."
Arbour can be contacted at 1-340-715-8046.