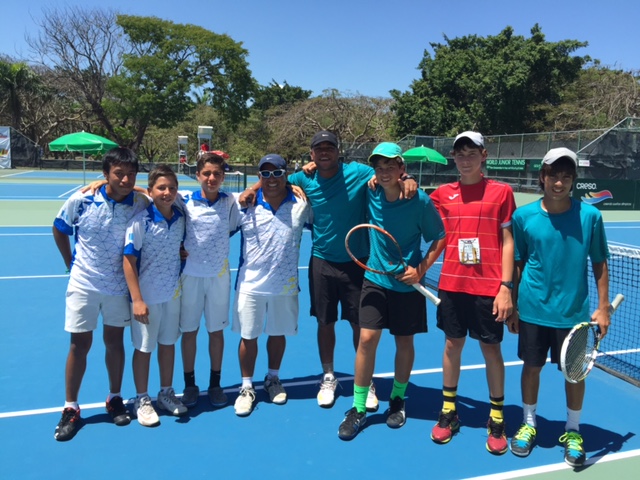 The International Tennis Federation (ITF) pre-qualifying World Junior Tennis Competition finished on Saturday, March 21, in Santo Domingo, Dominican Republic. The team, consisting of Alec Kuipers, Russell Armstrong and Nayan Bansal from St. Croix, finished within the main draw in 6th place overall.
"This is the highest the Virgin Islands has ever placed in this or any ITF team event," said Bill McComb, president of the VI Tennis Association (VITA).
Sixteen Central American and Caribbean nations sent teams with competitors between the ages of 12 and 14.
The initial matches and draw were challenging, yet the V.I. earned a seat in the main draw, finishing second in its group with Aruba, Panama and El Salvador. On Thursday, the first day of play in the main draw, they fell 1-2 to the number one seeded team of Guatemala, which later went on to win the tournament. The doubles team of Russell Armstrong and Nayan Bansal accomplished a win in doubles for that day.
On Friday, the team continued to play for the 3-8 position and had a key win against Nicaragua 2-1, Alec and Russell both winning their singles matches.
The final day, Saturday, the team played for the 5th-6th position but fell with a fight to the Dominican Republic 0-3, resulting in 6th position overall.
"Our young men played with grace and conducted themselves respectfully on and off the court," said Coach Kevin Motta who served as captain for the team. "We Virgin Islanders should feel proud to have these players as our young V.I. tennis ambassadors."
The official standings of the tournament are: Guatemala, Aruba, Barbados, Bahamas, Dominican Republic, U.S. Virgin Islands, Costa Rica, Nicaragua, Bermuda, Puerto Rico, Curacao, Jamaica, El Salvador, Haiti, Panama, and Honduras.
Guatemala will join Canada, Mexico and the U.S.A. to contest the final qualifying round to be held in Boca Raton, Florida.
VITA and the VI Olympic Committee generously sponsored travel for the team. ITF provided accommodations, meals and transportation at the event.
The V.I. team was chosen based on the USTA Caribbean sectional rankings. Throughout the year, players travel to Puerto Rico to compete within the Caribbean Section, of which VITA is a member, and they also earn points toward a U.S. national ranking.
"For the first time in many years, the V.I. will host a USTA ranking tournament in St. Croix at the Buccaneer," said Bill McComb. The tournament will take place in September and be held over two weekends for the 14 and 18- year-old boys' and girls' divisions. "VITA expects 50-64 players to travel to St. Croix from Puerto Rico for this new event," McComb said.
For more information, contact William McComb, president of VITA, at 690-0308.