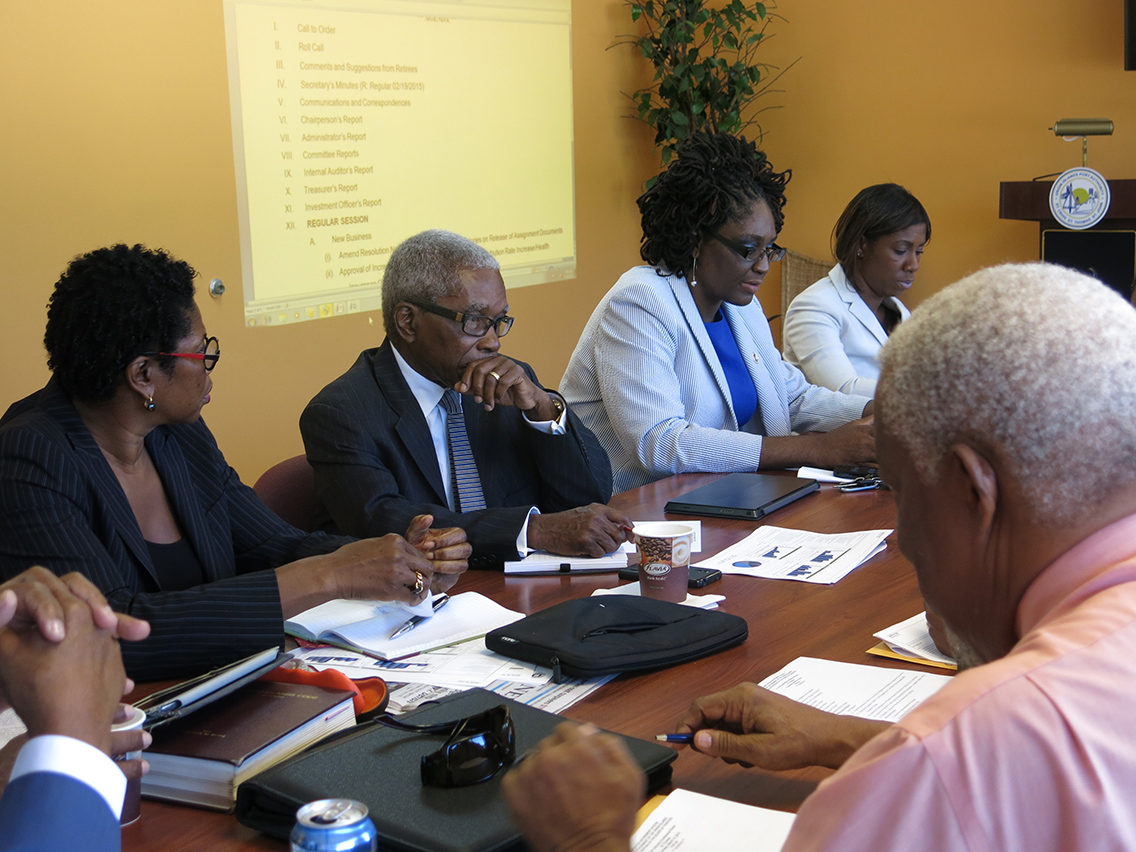 With more dismal news in the monthly treasurer's report, the Government Employees Retirement System Board of Trustees voted unanimously Thursday to authorize Administrator Austin Nibbs to pursue legal action against the Gov. Juan F. Luis Hospital for missing employee and employer contributions.
Since about February 2013, Luis Hospital officials have collected employee contributions for GERS but have not remitted payment to the system. They have also not paid employer contributions to GERS.
Calling the action "criminal," GERS Trustee Judge Edgar Ross made the motion to give Nibbs the okay to use legal channels to obtain the roughly $5.3 million owed to the system at the Board of Trustees' monthly meeting Thursday on St. Thomas.
"What they are doing is criminal," Ross said. "Going back to 2013, they have deducted money from employees' checks and failed to submit payment to GERS. They are using that money to run the hospital. This is one case where we should go to court."
With trustees Desmond Maynard and Michael McDonald absent, trustees Leona Smith, Carol Callwood, Ross, Vincent Liger and Chairman Dr. Wilbur Callender voted to authorize Nibbs to refer the matter of the missing $5.3 million in contributions to the Attorney General's Office for appropriate action.
The monthly treasurer's report was highlighted by an $11 million gap between annuity payments and employer and employee contributions.
"I am constantly amazed at these numbers," Callwood said. "We paid $11 million more in annuity than we took in from employee and employer contributions last month. These numbers need to be posted wide. Eventually, the more you draw down, the less you will get. This message needs to get out there."
Unless changes are made to the system, GERS will be unfunded by 2023, Callender reminded the trustees.
"The system will fail by 2023 if something is not done," Callender said. "We will do whatever we need to do. The senators are aware of this."
February saw GERS with a $12,203,210 total net cash deficit and a $59,912,874 net cash deficit so far this year, according to the report.
The board unanimously approved an operational budget of $3,830,043 million and an additional $835,363 for electrical work, roofing and new vehicles for Havensight Mall, as officials grappled with finding a way for the shopping complex to make money.
Ten business have closed in the past year at Havensight. Legislators recently canceled a planned extension of the cruise ship dock and the value of the property is diminishing, Nibbs said.
"We have to be more aggressive," Nibbs said. "Our bottom line is going down. The property was appraised at $44 million in November, down from $80 million five years ago. Hopefully that will change; I don't know how."
"Tenants are leaving; they are not making any money," he said. "The pier extension was cancelled at a detriment to tenants."
Smith suggested changing the offerings at the mall.
"We need to change the flavor out there," she said. "They have a lot of those things on the cruise ships. We need different stuff."
Callwood said it's up to the store owners to be appealing to shoppers.
"It's up to tenants to change," Callwood said. "It's not our responsibility to diversify the mall. It's up to tenants to bring traffic to the mall. It goes back to marketing the mall."
Liger suggested the board look into selling the mall, but Nibbs urged trustees to wait to hear recommendations from a master plan study of Havensight being conducted by Alfred Gobar Associates.
Part of the plan includes a traffic study, which Jaredian Design Group proposed to complete for $44,000, offering the board a $15,000 discount if they agreed to use information from a 2009 study. Contractor Jack Pickle said he didn't expect the traffic report to be so expensive.
"It is not critical for my report," Pickle said. "I didn't anticipate it to be that high."
Trustees voted unanimously to table the traffic study proposal until more information on its importance was obtained.
The board also voted unanimously to loan Carambola $85,575 for a down payment on property insurance to be repaid in installments before the end of December 2015.
Luis Hospital isn't the only entity that owes GERS money. The central government owes the system about $44.3 million in missing employer contributions and retirees are starting to feel that pinch.
Of the 210 employees who retired between May 2012 and December 2014 and had not received any annuity payments, GERS was able to pay 12 retirees with the first of a $1 million payment from Office of Management and Budget, Nibbs said.
"Of the missing contributions from the central government, $1 million of $2.1 million was advanced," Nibbs said. "On March 15 we paid 12 retirees. Another 75 will be paid on March 30. Those payments used $743,000 of that $1 million. We will have to ask the government to advance additional money to us as soon as possible. It's running out fast."
The board unanimously voted to approve a Records Retention Policy to determine the date documents can be destroyed after being kept for a mandatory amount of time. The board had been observing this, but did not have a formal policy in place.