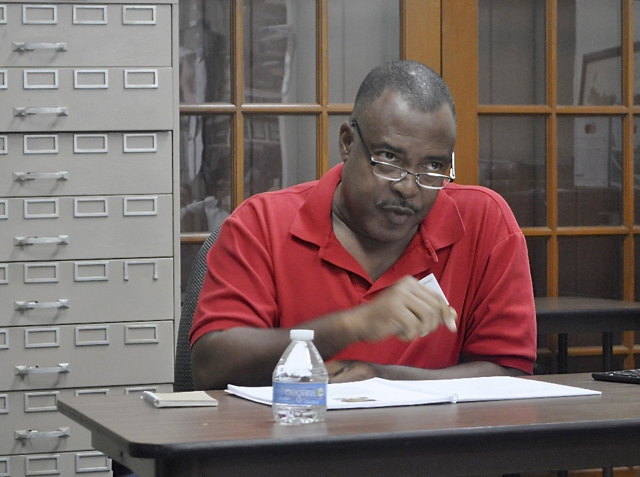 Genealogist, author and educator Leayle Robinson shared excerpts from his forthcoming book during a lively presentation at the Caribbean Genealogy Library on Saturday.
Robinson said the focus of his book is Virgin Islands centenarians, those individuals in the territory who have lived passed the age of 100. He said his book will also include super-centenarians, individuals who have lived beyond their 110th birthday.
Robinson, who is the author of "From Mary's Point to John's Folly: The Petrus Family Tree" and "Tis Ting to Tahk: A Dictionary and Phrase Book of English Creole Words, Proverbs and Customs of the Virgin Islands," said that his latest project aims to document, and interview where possible, the oldest members of the Virgin Islands community in order to preserve their stories.
"We must hold these gems in high esteem," said Robinson. "They are our connection to the past, our oral history books, our storytellers, our matriarchs and patriarchs."
Robinson said he started his research by interviewing some of his own family members who had reached 100 years of age, and that he has since gone on to identify and compile the stories of 103 V.I. centenarians, some of whom are alive and some of whom have recently died. He said the centenarians did not have to be born in the V.I. to qualify for his book, they only had to have lived in the islands for a substantial portion of their lives.
One of the objectives of Robinson's research was to find what factors might account for the large percentage of centenarians in the Virgin Islands relative to the overall population, he said.
After asking the audience what they thought the centenarians' sources of longevity might be, Robinson read excerpts of his interviews with the centenarians themselves who provided answers ranging from a specific diet to their belief in God.
One woman said simply that the secret to long life is to "love one another."
Robinson shared some of the patterns he has uncovered over the course of his research. He said that the largest number of Virgin Islands centenarians that he has identified were born on Tortola. The female centenarians, Robinson said, lived much longer than their male counterparts. He said initially suspected that many of the centenarians would have fewer children than the average, but he found no correlation between family size and longevity.
Robinson said he has more research to do before his book on Virgin Islands centenarians will be published. He said he welcomes community input on the project and that anyone who knows an individual over 100 years of age can reach him at 1-340-513-8521.