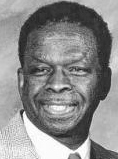 Liston Abbott, 77, died on Feb. 22 in Edison, N.J. Born on St. Thomas, U.S. Virgin Islands, Abbott had lived in East Windsor, N.J., since 1968. He was a graduate of Charlotte Amalie High School on St. Thomas and City College of N.Y. with a Bachelor of Science in Electrical Engineering. Abbott was employed by RCA/GE/SRI International as a member of the technical staff, where he specialized in communication systems (TV, radio, telephone, microwaves, satellite, digital processing). He held seven U.S. patents, published over 30 technical papers and played an instrumental part in the development of today's current digital HDTV standard.
He retired in May 2000 after 44 years of service. He had served as chairman of the board for the Better Beginnings Day Care Center in Hightstown, N.J., since 1974. He was a co-founder of the Minorities in Engineering Program at the David Sarnoff Research Center and served as an instructor for 40 years. Abbott also served as a member of the board of directors of the Research and Technology Park of the University of the Virgin Islands.
He was a longtime volunteer with a variety of organizations, including the United Way and Big Brothers/Big Sisters of Mercer County. Abbott received numerous awards and honors including the United Way Lambert Award, East Windsor's Shining Star Award, Kappa Alpha Psi's Men of Achievement Award, Council of Community Services' Award, and a proclamation for contribution to Electrical Engineering and Communications by the Legislature of the Virgin Islands.
He was predeceased by his wife of 51 years, Joyce V. Abbott; his father, James Alston Abbott; his mother, Sarah Eugenia Leonard; brother, Dennis Leonard; and sister, Olympia Richards.
He is survived by his son, Wayne Abbott; daughter-in-law, Pascale Lafontant; grandchildren: Bergenoute and Wisnor Abbott; siblings: Egbert Leonard, Beryl Leonard, Julian Abbott, Marion Francis, Richard Abbott and Antonio Abbott; and a host of other relatives and friends.
A funeral service will be held at 10:30 a.m. on Friday, March 6, at the Witherspoon Street Presbyterian Church, 124 Witherspoon St., Princeton, NJ. Interment is at Cedar Hill Cemetery, Hightstown, N.J.
Arrangements are by the Hughes Funeral Home, 324 Bellevue Ave. Trenton, NJ 08618 (609-599-9006).