Getting more local food growing, in the markets and on V.I. tables, will be his prime goal, Acting Agriculture Commissioner Carlos Robles told the Senate Rules and Judiciary Committee at his confirmation hearing Friday.
"I really believe that we can get more food on our plates. … That will be my driving force," he said.
Like many departments, Agriculture is short staffed, needs new equipment and more money, Robles said.
"Your $3 million budget is too low, you said. What wold be an appropriate budget?" asked Sen. Jean Forde.
"Twenty five million dollars, off the top of my head," Robles said. Right now, the department has no entomologist or any in-house specialists, if a pest outbreak were to occur, for example, he said.
"I think a lot of individuals are not quite clear on what a farmer really is and the fact that a farmer is really a professional," Forde said. "A farmer is a businessman, a farmer is one who produces and sells his product. It's a business that you're running for profit."
"I really believe that we can get more food on our plates," Robles said, during his thank you remarks. "That will be my driving force."
Senators asked about helping businesses to expand in order to accommodate Virgin Islanders who live outside the territory who want access to local provisions. Robles said he hoped it would be possible in the future, however, resources are limited.
"We can't meet the local demand for local food," Robles said.
Robles received a master's degree in horticultural science from the University of Florida, Gainesville.
He has been district supervisor for the University of the Virgin Islands Cooperative Extension Service since 2013, after serving as acting district supervisor since 2008. He has worked with the Extension Service since 1982 and has published numerous academic and practical articles about V.I. farming, gardening and horticulture.
The committee voted 6-0 to send Robles' nomination on for a final vote, with Sen. Janette Millie Young absent.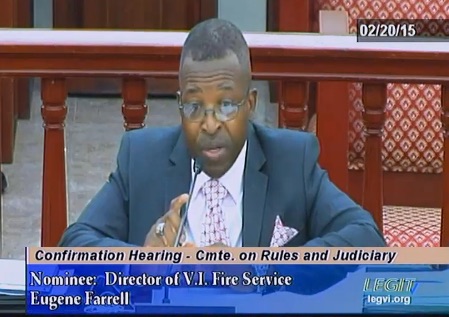 Later, the committee sent on Eugene Farrell's nomination for director of the V.I. Fire Service by a 4-0 vote.
Farrell has a master's degree in public administration from the University of the Virgin Islands. He is a sergeant major in the V.I. National Guard. Farrell was deputy fire chief and in charge of training from 2005 to 2007 in the second term of the Gov. Charles W. Turnbull administration.
Like Robles and like previous departmental nominees this year, Farrell said his division is dangerously short-staffed, forcing over-time expenses. The department has seen a 16 percent drop in its budget since 2010 and it now stands at $16.3 million, he said.
Senate President Neville James, Sen. Nereida Rivera-O'Reilly and other senators said the Legislature could not promise to increase funding while also being told by the Mapp administration that there is a budget shortfall.
Voting to send Farrell's nomination forward were Forde, Sens. Novelle Francis, Justin Harrigan and Kenneth Gittens. Young was absent. James and O'Reilly were absent at the time of the vote, but attended the hearing.