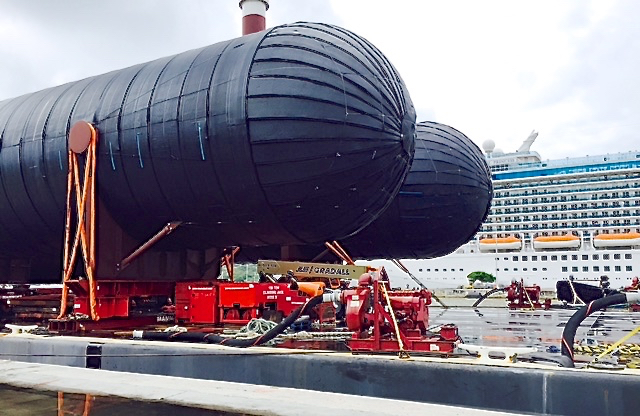 Virgin Islands Water and Power Authority Executive Director Hugo V. Hodge, Jr. said Saturday that the heavy rainfall of Friday night has caused the agency to postpone Sunday's planned movement of two of the ten mega storage tanks that will be put in service on St. Thomas.
"With almost eight inches of rain recorded from midnight Friday to the early morning hours of Saturday, we experienced major soil saturation and low level flooding all along the movement route from the Crown Bay homeport dock in Subbase to the propane facility overlooking the Krum Bay power plant," Hodge said in a statement issued Saturday night. "As such, we will postpone the movement of the two tanks which arrived as scheduled early Saturday morning from St. Croix to allow time to assess the ground conditions, especially along the roads that were modified and in some cases, created, to facilitate the movement of these tanks."
He said that in consultation with WAPA's propane conversion contractor, VITOL, the decision was made to postpone the movement until perhaps Monday, weather permitting, to allow time for the contractor, their staff and consultants to analyze the conditions of the roadway along the movement route.
"These tanks are extremely heavy and should the road condition – especially the areas that were created along the route – not be in ideal shape, we could run into a major issue," Hodge said.
An announcement will be made Sunday once a final decision is made about whether to proceed with the movement on Monday.
Hodge estimated that the one day delay in the movement of the first two storage tanks will not have an adverse impact on the February 26 timeline by which all tanks are expected on St. Thomas.