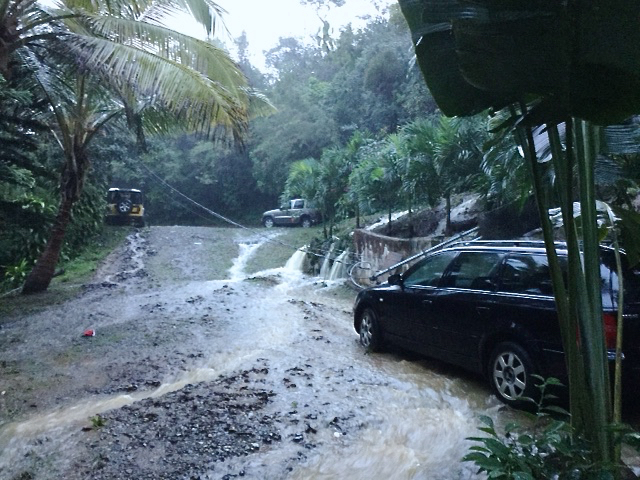 St. Thomas was lashed by 11 inches of rain in the 24-hour period between 8 a.m. Friday and 8 a.m. Saturday, with most of that falling after 6 p.m. Friday, National Weather Service meteorologist Jose Alamo said Saturday morning.
"An old frontal boundary has an area of increased convection," Alamo said from San Juan.
According to Alamo, the convection sat over St. Thomas.
"That's why St. Thomas got a lot of rain but no one else did," Alamo said.
Fortuna, St. Thomas, resident Jay Lammering said so much rain fell that waterfalls formed as the rain ran downhill.
"I'm waiting for salmon to start running upstream in my driveway," he said, referring to a situation that occurs in much colder locations where salmon live.
He said the rain took out a concrete pillar that held his weather head and V.I. Water and Power Authority meter. Because of the danger, he said he shut off his power and was waiting for a repair crew to arrive.
Residents also reported rock slides in driveways and flooded roads.
Weather Station Zephyr at Ajax Peak on St. John had .04 inches of rain from midnight to 8 a.m. Saturday. Alamo said St. Croix reported .32 inches of rain from 8 a.m. Friday till 8 a.m. Saturday.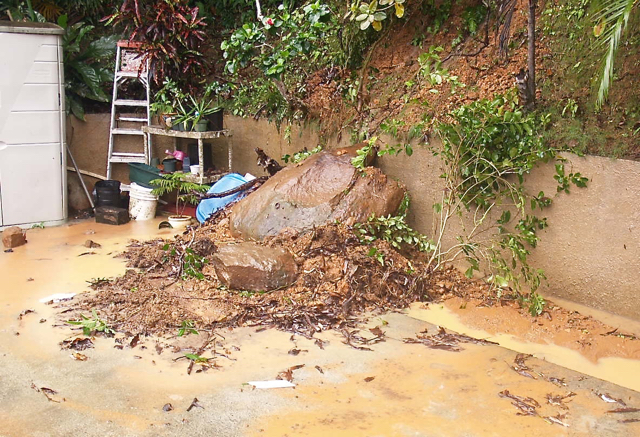 The National Weather Service posted a flash flood warning for St. Thomas and St. John that was slated to expire at 11:15 a.m. The U.S. Coast Guard also sent out an advisory warning swimmers and boaters of high surf on north facing coasts. A small craft advisory remains in place until midnight.
As of 8:30 a.m., the rain was starting to clear out to the south. However, Alamo said St. Thomas and St. John can expect more showers later Saturday.
"We don't expect a whole lot on St. Croix," Alamo said.
Sunday should see much better weather, Alamo said.
St. Thomas experienced a power outage early Saturday morning, but V.I. Water and Power Authority spokesman Jerain Fleming said it was related to a broken pole, not the rain. She didn't offer any details.
While the Weather Service was doing the best it could with satellite images and reports from people with weather gauges, Alamo said its forecast efforts were hampered by the fact its radar communications system went down Thursday. He did not know when it would return.
"Hopefully very soon," he said.