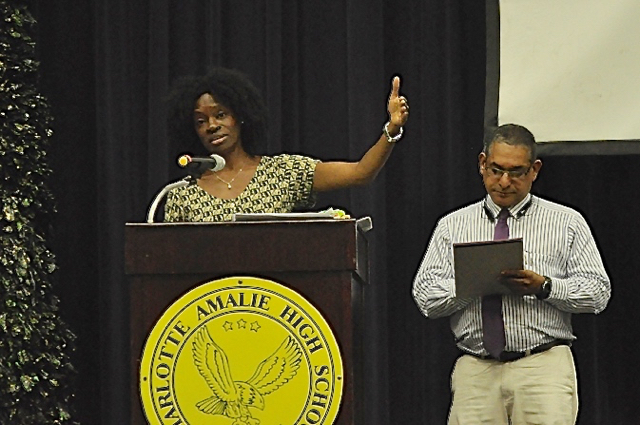 In what Downtown Revitalization Inc. member Monica Prosper called the first of a "continuing series of monthly events," businesses in the downtown area will offer deals and special entertainment events Valentine's Day weekend to reinvigorate Charlotte Amalie's slumping nightlife.
Downtown Revitalization Inc. is a non-profit corporation founded in 2010 by business owners and residents of Downtown concerned with a lack of economic activity and vibrant cultural life after Main Street's shops close at 5 p.m.
At a presentation at Charlotte Amalie High School's auditorium Wednesday, Prosper told community members that DRI's first planned event, "Romance with a Tropical Flavor," will be "like a miniature 'Miracle on Main Street'," citing the success of that annual holiday festival in bringing crowds to the downtown area after dark.
Prosper said the celebration will begin on Friday, Feb. 13, with shopping and dining specials, and will continue through the weekend with a "twilight musical serenade" and a dance on Saturday evening, followed by brunch specials on Sunday.
To attract visitors to this event along with residents, Taxi in Unity will offer half off taxi rates to downtown that Friday evening for passengers traveling from overnight accommodations.
Businesses in Frenchtown, Havensight, and Yacht Haven Grande will offer specials on all three event days. Planned entertainment, however, which will include mocko jumbies, Quadrille dancing and local artist demonstrations, will take place only in the core downtown area of Main Street, Back Street and Waterfront.
At Wendesday's presentation, DRI President David Bornn said security after dark in the downtown is the issue that most needs addressing if Charlotte Amalie is to rekindle its nightlife. Ideally, security will eventually include a mix of VIPD officers and private security guards, as well as surveillance cameras, Bornn said.
DRI also plans to make community members more aware of investment opportunities that exist in restoration projects in some of downtown's economically distressed areas.
Nadine Marchena Kean of the V.I Economic Development Authority Enterprise Zone Commission gave a brief presentation about incentives in Charlotte Amalie's Enterprise Zones in the Savan and Upstreet areas.
Within enterprise zones, which are determined by poverty levels, investment is rewarded by a non-refundable gross receipt income tax credit of 25 percent of the value of expenditures for the rehabilitation of buildings, and a 10 percent credit for expenditures on equipment used for businesses, Kean said.
Kean said that a planned Downtown Commercial zone, which will offer similar benefits, has not yet been zoned.
Bornn said that although Gov. Kenneth Mapp has expressed full support of downtown revitalization initiatives, it is ultimately up to the community to create the sort of town it wishes to live in and do business in.
"It's your town." Bornn told the audience, encouraging everyone to become involved in Charlotte Amalie's renewal.