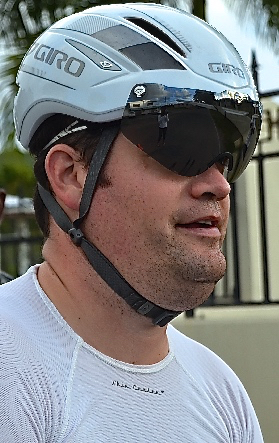 Cyclist Eddie Nolan posted the fastest time in the Virgin Islands Cycling Federation's first race of the year, the Season Prologue, cutting four seconds off last year's top time in doing so.
The race was held Saturday morning on South Shore Road, as a small group of cyclists raced from the eight miles from Junie's Bar to the former Café Kaleidoscope.
Competing in the Expert category, Nolan completed the course in 17 minutes, 33 seconds. Scott Fricks came in at 19:00.
Riding in the Elite category, David Parris was third overall.
The next scheduled race, the La Grange Circuit, is set for 7 p.m. Feb. 8.
Further information is available by calling the federation at 1-340-332-6282.
The final times for all contestants follow.
Elite
1st, David Parris, 19:11, third place overall; 2nd, Glenn Massiah, 19:27, fourth overall.
Expert
1st, Eddie Nolan, 17:33, first overall; 2nd, Scott Fricks, 19:00, second; 3rd, Clive Parris, 19:43, fifth; 4th, James Meyers, 20:57, sixth; 5th, Joey Swanson, 21:53, seventh; 6th, Laverne Fredericksen, 22:00, eighth; 7th, Mark Kennedy, 23:17, tenth; 8th, Yves Abraham, 23:58, twelfth.
Sport/Women
1st, Valentino Gario, 22:45, ninth overall; 2nd, Judy Gario, 26:29; 13th overall; 3rd, Donna Goetsch, 29:30, 15th; 4th, Antonio Lewit, 30:15, 16th.
Masters
1st, Nelson Rojas, 23:41, 11th overall; 2nd, Fred Rollins;, 29:28, 14th; Larry Malanga, did not finish.