After the V.I. Water and Power Authority's board meeting Thursday, Executive Director Hugo Hodge Jr. signed a 25-year agreement with representatives from St. Croix Solar LLC to purchase 6 megawatts of solar energy from two facilities to be located on St. Croix.
Hodge said the completed projects would increase St. Croix's electric energy output to 15 megawatts, or 40 percent of the island's peak demand. At the end of 25 years, the contracts can be renewed for another five, he said.
The two solar voltaic facilities will be located on approximately 30 acres of leased land in Estate Granard and Estate White Bay on the southeast and western portions of St. Croix.
St. Croix Solar is a partnership between Caribbean Energy Opportunities and Foresight Renewable Solutions, based in San Francisco. St. Croix residents Steven Larchuk and Peter Sites own Caribbean Energy Opportunities.
Sites and Larchuk started All Rounder Systems LLC that installs the fiber optics in the territory for the V.I. Next Generation Network.
Foresight's chairman told the WAPA board his company has installed solar plants in Arizona and California and is very familiar with advanced converter technology. According to Foresight's website, the company currently has four contracts with major utility companies.
"We consider ourselves a leader in the field," Warren Byrne said.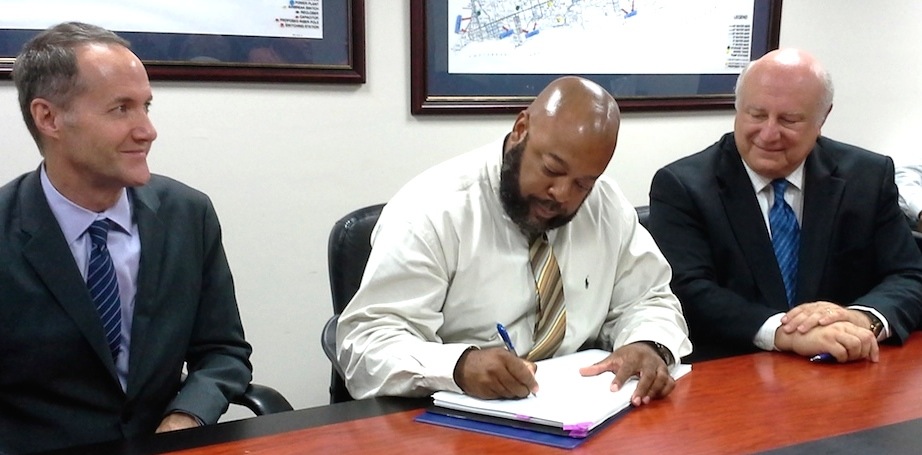 When the facilities are operational, WAPA will pay St. Croix Solar $.139 per kilowatt plus 2 percent interest/surcharge for electric energy.
Hodge seemed pleased with the agreement. He said it is in line with the territory's mandate for renewable energy use and it marks the first time WAPA's portfolio includes a resource not tied to a commodity, such as oil.
Sites said the project could be completed in a year, depending on the time it takes for Public Service Commission and Coastal Zone Management approval and other permits.
Coming as no surprise after the Legislature's refusal to sell the Hovensa refinery in December, Hodge said he has received word the supply of No. 2 fuel will run out in the middle of February. Hovensa intends to close the refinery and storage units.
Hodge said two companies sent bids to supply WAPA's fuel and that Trafigura AG of Puerto Rico was chosen. Unlike mainland shippers, Trafigura can send fuel in smaller vessels to navigate the shallow waters of St. Croix, he said.
Trafigura has worked with WAPA before and the price will be consistent for five months, according to the agreement. After that there are mutual renewable yearly extensions. Prices will be based on the Platt and Argus indices plus a premium.
"The contract is with Trafigura AG for the supply of number two crude oil to WAPA's power plants on St. Thomas and St. Croix," Hodge reported. "The current fuel oil supplier has advised WAPA of notice from Hovensa on its intent to terminate their current fuel storage agreement on March 1, 2015."
The board unanimously approved the solar and fuel supply agreements but discussed and rewrote several times – in conjunction with U.S. Environmental Protection Agency consent decrees on St. Croix and St. Thomas – a motion for funding technology and professional services.
Currently Arcadis Inc. has been working with both utilities to correct issues that could cost millions of dollars if not corrected, Hodge said, asking staff to tally the anticipated expenses ($300,000 for St. Croix and $540,000 for St. Thomas) so he could submit the request.
Hodge said he has been approving smaller amounts but anticipates the total expenditures will be over his $200,000 approval limit.
"We're asking the board to let us work freely without coming to you with every contract," said Greg Rhymer, WAPA chief operating operator. He presented the information and answered questions from the board.
St. Croix is currently working under a consent decree that is almost settled, Rhymer said, but St. Thomas does not have an agreement. He said Arcadis Inc. has the "institutional knowledge" to work with both facilities towards compliance.
Training another entity could impede progress and cost more, Rhymer said, adding that fines for violating the federal agreements are $37,500 a day.
"No one can come in today that can do the services. It is important we go forward and resolve the issues," Rhymer said.
Board member Noel Loftus pointed out that the company worked with the EPA to reduce St. Croix penalties from "several hundreds of millions dollars" to $700,000.
Several board members wanted to put the contract out for bid, but finally agreed to revisit the issue at the end of the fiscal year. Until then, Arcadis Inc. will have the contract.
Other items approved by the board included approximately $264,429 to clean and inspect and an oil storage tank and $437,300 to repair and pave the parking lot at the Richmond Plant on St. Croix.
The board also increased the vehicle maintenance budgets for St. Thomas and St. Croix to $470,000 from existing operations budgets. Hodge said new vehicles were not purchased this year and more than $230,000 is needed for repair and upkeep. Next year, he said, they can transfer the funds back for vehicle purchase.
Board members who attended the meeting were Gerald Groner, chairman; Juanita Young, vice chair; Noel Loftus; Donald Francois; and Elizabeth Armstrong.