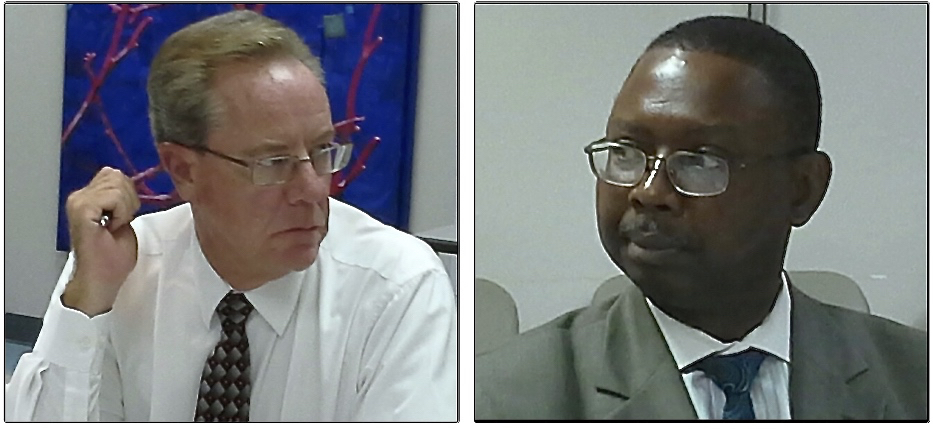 The Board of the Gov. Juan F. Luis Hospital Wednesday reaffirmed a two-year old hiring freeze, discussed staffing and introduced two new senior administrators who will help insure that the medical center complies to mandates from the U.S. Center for Medicare and Medicaid Services to retain certification.
Ken Okolo is the hospital's new chief operating officer, who will play "a crucial role mandated by the systems improvement agreement," said Dr. Kendall Griffith, chief executive officer. According to Griffith, he will also manage all operations.
When Okolo addressed the board in December he said he would support Griffith and help turn JFL into a "premier institution."
The new chief financial officer is Tim Lessing, who moved from Louisiana. Griffith described Lessing, who has a masters degree in business administration as "quite capable and ready to lead this organization financially."
Board member Kimberly Jones and Pamela Sanes-Everett, vice president Human Resources, reported that the HR committee met and talked about challenges, recruitment, CMS compliance and compensation. Jones said staff and leadership training and auditing all personnel records is in the works as well as a staffing plan for the CEO. Recommendations about staffing will be made after reviewing a list of exempt personnel and salaries and according to a department's volume.
Philip Arcidi, finance chairman, said the staffing plan and pay analysis is important because 70 percent of the hospital's expense is payroll.
"Once we have that and approve that, we'll have a great budget to approve for the year," Arcidi said.
After the HR report, Dr. Anthony Ricketts, board chair, said the executive committee reviewed and recommended keeping a hiring freeze put in place in March 2013 to meet CMS requirements. With the exception of registered nurses and physicians, no positions were to be filled without board approval. Arcidi suggested the hospital should be allowed to hire medical technicians as well as nurses and doctors.
A component of the March 2013 action included eliminating pay raises and promotions without board approval.
"We (the executive committee) agreed to agree to this, especially since we are in the process of looking at a staffing plan," Ricketts said.
The board voted to continue the hiring freeze and hold promotions and salary increases at least until the staff analysis has been completed.
CMS approved the systems improvement agreement in November and will allow the hospital to make corrections and quality improvements within the next nine months to retain certification. Sometime next summer CMS will conduct an unannounced inspection.
Attending the meeting were Ricketts, Arcidi, Joyce Heyliger, Troy Schuster and Jones by telephone.