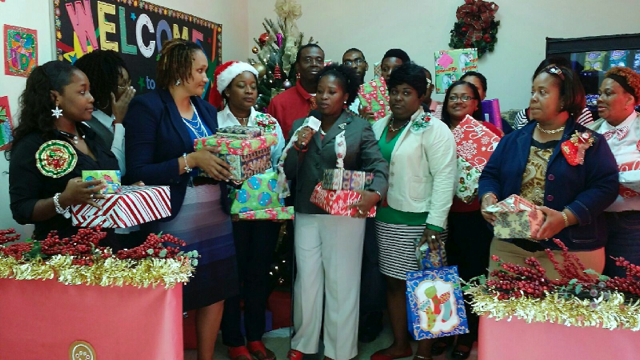 Vivian St. Juste, director of the Family Resource Center, beamed Friday morning as she and her staff received some 40 wrapped Christmas gifts from the Department of Education.
The gifts, which were handed over in a little ceremony at the Curriculum Center on St. Thomas, were an initiative of interim Education Insular Superintendent Dionne Wells. It is the first time Family Resource is getting Christmas presents from the Education Department.
According to St. Juste, the gifts will be distributed first to the eight children living in Family Resource's safe houses, then to children getting counseling from the center's staff. These children are either direct or primary victims of domestic violence or sexual assault, or secondary victims who witnessed violent incidents, or experienced the aftereffects.
Family Resource staff do not know what the wrapped gifts contain, only the clues on the wrappings that indicate the gender and age the gift is intended for. Nonetheless, St. Juste said they will go a long way to brighten up the holidays for the children they serve.
According to St. Juste, domestic violence incidents rise during the holiday season. The increased pressure to provide a little something extra for the family triggers maladaptive behavior in abusers.
"Domestic violence and sexual assault are about the power and the control, and when you're losing power, you're losing the control of their situation, they may target the closest person to them, and the closest person is going to be relative, or a spouse, or even a child.
Another reason, said St. Juste, is the fact that that during the holidays, people normally want to be around "old comforts," usually family. Often, in the process of trying to fix unhealthy family situations, abusers end up making wrong decisions that worsen the situation.
St. Juste said Family Resource has been fortunate in being the conduit between many community and government organizations eager to help and those who are in need, especially during the Christmas season.
They sometimes do not get to see the reactions of the children receiving the gifts, but those that they do see make their work rewarding, Str. Juste said. It is a benefit not only for the child, but for the parent who might not have anything to give for Christmas.
"To have that child open a present, and know Santa Claus didn't forget them. The absent parent may not be giving, but Santa Claus didn't forget," said St. Juste. "Or simply, that the parents can feel good that their child has joy on Christmas day."