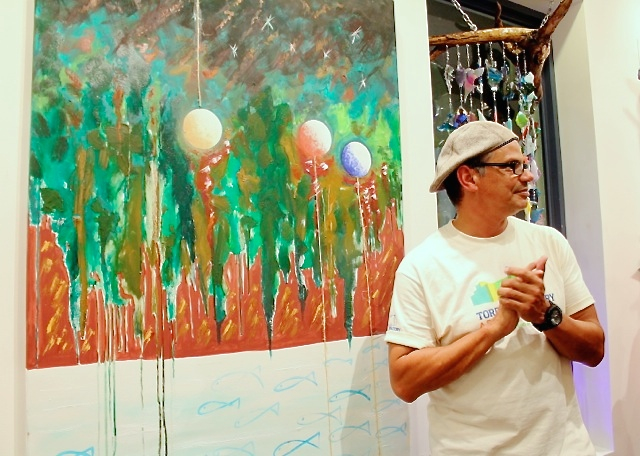 More than 100 people milled in and out of Pop-Up Art Gallery at Yacht Haven Friday evening for the kick-off event of "Defending Paradise," an art exhibit touching on social and environmental issues.
More than 20 artists from across the territory put almost 100 works on display, from paintings to photographs to installations, all dealing with issues such as homelessness, violence and environmental pollution.
"It's an exploration of that theme, of defending paradise, in an artistic, visceral way," said Priscilla Hintz Rivera, curator at Pop-Up Art. "All the artists explored the themes in a very eclectic, thoughtful manner."
Most of the works on display are for sale, with a portion of the proceeds going to the Rotary Practice Peace Initiative.
Most of the environment art used recycled materials. Brenda Sylvian's "All that Remains" is a coral reef made almost entirely out of found marine trash: plastic bottles became coral, plastic strips became seaweed and empty cigarette lighters became anemone.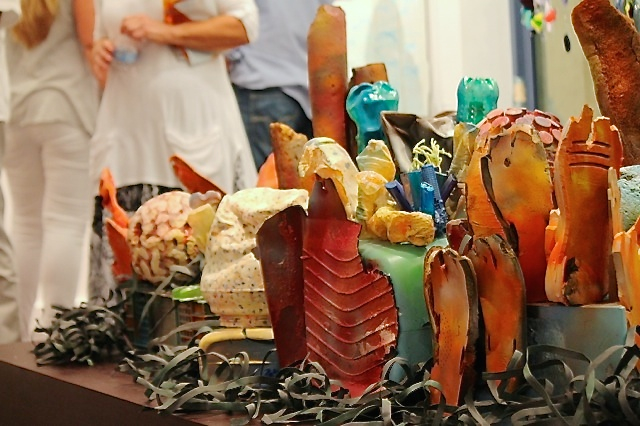 "When you first come up to it, it's a beautiful image of a coral reef, and as you get closer, you realize it's marine trash," said Jason Budsan, who heads the Environmental Association of St. Thomas. "It brings home the point that we have to protect our oceans. It really brings home the message."
Ensor Colon's "Where Are We Going to Live?" is an abstract oil painting depicting the biosphere. Three round blobs portray the earth, the sun and the planet Mars.
"I'm against the 2024 project to send people to live there," said Colon, who doubts the feasibility of planting human colonies on Mars. "Why invest money in that? Why not invest the money to fix our planet?"
Other works focused on sustainability. Paul Wikander used old bottles, sand and LED lights to create aesthetic, long-lasting light sources. Sean Krivatch's "Copper Impact Lighting" was intricately carved copper wall lamps designed to withstand decades of use in the Caribbean climate. Shansi Miller deviated from her classical style to abstract realism, "documenting" places she believes remain untouched by construction around St. Thomas.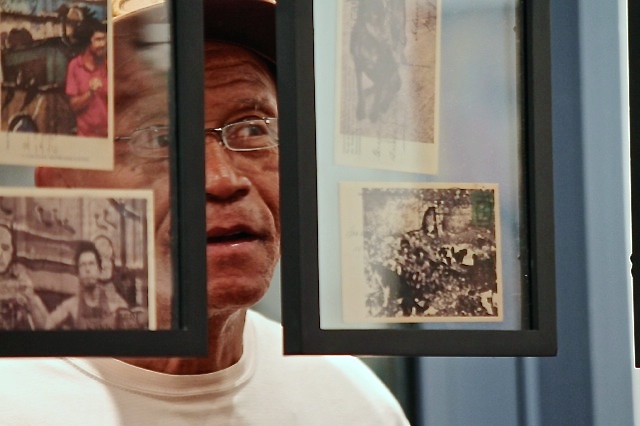 St. Thomas-based veteran photographer Steve Rockstein said he heard about the exhibition from Hintz about a month ago. Hintz had seen a 2011 exhibit of Rockstein's works and decided those were the kinds of photographs she wanted to showcase.
"I got unique access to people's private moments," Rockstein said about working as a newspaper photographer. "What I tried to do is, from the chaos, preserve great images that preserve people's dignity."
Rockstein's photographs, all black and white, told stories of violence, alcoholism, poverty and homelessness.
The crowd was particularly drawn to Rockstein's "Guns," a striking, black-and-white image of a child tentatively inspecting a small revolver among a number of guns spread across a glass-topped table. The picture was taken at police demonstration at Ulla Muller Elementary School, according to Rockstein.
"The way he stared at it was just so compelling to me. That was like dealing with the whole dilemma of the attraction, and then the reality, of weapons in our culture," he said. "I look at that boy's face and I feel all of that, that whole conflict."
In "Two Sides of the Same Coin," Clay Jones took tourist postcards and photos of homelessness and poverty, placing them back-to-back inside picture frames suspended from the ceiling. Eric Browne created a multi-media collage out of photographs and clippings showing guns, tattoos, and soaring gas prices.
Hintz, who had identified the artists and gathered their work for the exhibit, said she was pleased with the outcome.
"They really took the theme, challenged themselves and created amazing work," she said.
The "Defending Paradise" exhibit is available for public viewing at Pop-Up Art until Nov. 15.