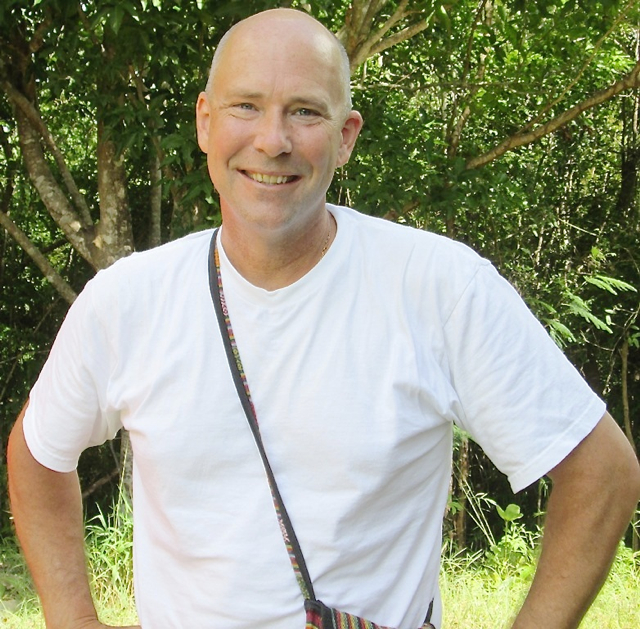 Just Play Day organizer Dean Doeling played sports as a youth, and when he saw that St. John students didn't have good sports balls to play with, an idea was born.
However, it took him a few more years to put his dream of helping St. John youths into action.
"I had to do something about that, or it would make me nuts," he said two days after this year's Just Play Day, which was held Oct. 13 to coincide with the Columbus Day and Puerto Rico/V.I. Friendship Day holiday.
The event brings out youths from all the island's schools to practice sports skills and enjoy lunch at Winston Wells Ball Field in Cruz Bay.
As a senior production artist for Nike, he had the inside track on getting surplus sports balls. He planned to do a simple distribution of the balls to schools, but St. John residents told him the need was so much greater than just equipment.
He started an organization called Using Sport for Social Change to help with his goal of helping the island's youths.
He and a few St. John residents burned up the phone lines between Doeling's home base of Beaverton, Ore., and St. John, hatching a plan to hold a sports day on the October holiday. Work started in June 2008, and by October of that year they had pulled it together with Doeling picking up the tab for things like water bottles and T-shirts to distribute to the youths that participated.
Since then, Just Play Day has grown to a more organized event with sponsorships and donations funneled through the St. John Community Foundation. He still gets surplus Nike gear, but many, many St. John businesses and residents donate money and in-kind goods to the cause.
Doeling somehow fits this in between his job at Nike, shared custody with his former wife of his two children – Nicholas, 15, and Cameron, 10, who live in the same Portland area where Doeling grew up.
When Doeling got out of high school, he worked for his father's landscaping company but wanted to start his own business. He bought screen-printing equipment and grew the company into a nice success.
Along the way, he got married and honeymooned at Caneel Bay Resort.
"I fell in love with the feel of the island," he said, adding that while he always intended to return, life intervened.
The Sept. 11 terrorist attacks happened, and the bottom fell out of his screen-printing business because his customers were afraid to advertise on items like T-shirts because they didn't know what would happen to the economy.
Doeling went to work for a company that had been his competitor, but hoped for a better job with a bigger company. Alas, the doors were closed because he didn't have a college degree. That gave him the incentive to start classes at the University of Phoenix's campus in his area.
He did land a production artist job at Nike and went on to finish school. He said he wanted to finish not just for himself but so his children could understand the value in finishing what they started.
As a senior production artist, he's responsible for spearheading the production of clothing and sports goods that carry the familiar Nike swoosh as well as a particular team's logo. And he worked on media apparel for the 2014 Olympics in Sochi, Russia.
"I always see it on TV and say 'I did that,'" he said.
He doesn't have much spare time, but recently returned to playing the drums like he did in his teen years. Then, he and friends played Ramones-style music with a group called the Fanatics. Now, he and friends play country two times a month in group called Slicker. Laughing, he said at 49 he's happy to play daytime events like fairs so he doesn't have to stay up late.
He and his partner, Carolyn Eaton, who was on St. John for this year's Just Play Day, plan to continue to enjoy St. John on their yearly trips and continue Just Play Day.
"I'm here for the long haul. I plan to do it as long as I'm physically able," he said.
More information on Just Play Day is online at www.usingsportforsocialchange.com.