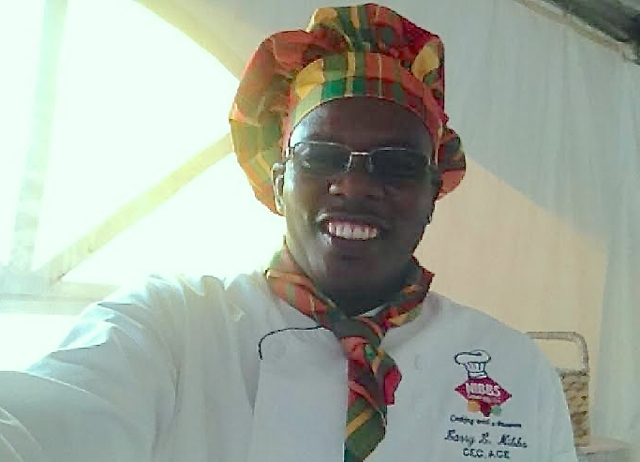 If you've attended a government function, an island wedding, or a charitable fundraiser in the past 10 years, chances are good that you've "met" Larry Nibbs.
He's the man behind the scenes, wearing the chef's hat and providing the centerpiece of the show – the food. He and wife Samantha have been cooking and running Nibbs Catering out of their Hospital Ground home since 2004, first as a sideline and now as an all-consuming venture.
Born on Tortola, Nibbs came with his family to St. Thomas when he was just three. His mother, whose health began to decline about 15 years ago, now lives with Nibbs and his wife and daughters.
"My mother was one of the best cooks in the Virgin Islands," Nibbs said. "I follow her footsteps."
He hasn't relied only on natural talent, however. Even before he graduated from Charlotte Amalie High School, he was working part-time at the Barbary Coast, a popular, unpretentious restaurant in Frenchtown. He said he started as a dishwasher and worked his way around and up.
"When I left (in 1988) I was running the whole kitchen," he said with obvious pride.
But humility was around the corner. He took a job at Marriott Frenchman's Reef and soon learned he had a lot more to learn.
"I said, 'Wow, I'm lost,' " he recalled. He worked at the Reef as a banquet cook and a line cook and was introduced to a variety of cuisines. He learned to cook Asian food at the table.
"It was very interesting cooking in front of the guests," he said. "It was challenging in the beginning, but I developed my personality."
Later he worked at Caneel Bay Resort on St. John, serving as a banquet chef and as chef of the resort's premiere restaurant, the Sugar Mill, and held almost every position in the Food and Beverage department over the course of 14 and a half years.
"The only place I didn't work in that resort was in pastry," he said.
He also took time out for formal education. He studied at the American Culinary Federation in Florida and was certified a sous chef in 2006 and a chef de cuisine in 2008. In 2009, he became an executive chef, a designation he said lasts only for five years; he just renewed it.
He keeps up to date on the profession by attending national conferences, and Samantha keeps the business running while he's away.
"She is my backbone in the business," Nibbs said.
In fact, he confessed, Samantha has become so proficient that sometimes customers can't tell which of them is doing the cooking.
"I don't like flour," he revealed, so she does most of the baking of pastries and breads. A friend recently told Nibbs his wife was actually a better baker than he is.
"It take me a couple seconds to digest it, and then I say, 'I agree with you," Nibbs said.
She also helps manage the operation, handling bookings and training and supervising the young people the couple hires to augment their professional staff.
Originally from Deland, Florida, Samantha studied to be a dental assistant but worked in customer service and then got into banquet work, eventually becoming a kitchen manager in a hotel. She was living in Florida when a mutual friend introduced the pair. Their first "date" consisted of a seven-hour phone call.
When he launched Nibbs Catering, Nibbs was still working full time at Caneel.
"Every time I get a day off, I'm doing catering," he said. "It's not fair to my wife."
"You don't want to see your husband struggling," Samantha said, explaining in part why she joined the business. Then, too, "I've been working since I was 16, so it's kind of hard for me to sit back."
The couple seems to be in sync in their approach. They don't like to deal with customers who can't make a decision about a menu or other details; it's a recipe for a failed event. They like their staff to be polite and efficient. Depending on the size of the job, they will team up with other chefs and food professionals, but they also have a small staff of young adults they rely on.
Nibbs teaches them kitchen basics, Samantha oversees such things as dress code, personal hygiene, punctuality, and general attitude. She said she also stresses that they can't let personal problems outside work effect their performance on the job. "You're never going to make it," if you do, she tells the staff.
"Customer service should be given everywhere," she added. Or as her husband put it, all events should be handled "like if we're catering to the president."
Apparently their ethic is appreciated. The business has expanded so much that they are outgrowing their prep kitchen. The couple is remodeling an upper floor, readying it to be their family home, so they can convert the lower floor to a super kitchen and catering work space.
They have two daughters, nine-year-old Alexandria who collects cook books and says she wants to be a chef one day, and Unique, 6. "She wants to be Michelle Obama," quipped Nibbs. "Or a ballerina," his wife added. Nibbs also has two grown daughters, Nichele and Lauriel. And he is mentoring a young man he worked with at Caneel, Shamoy Burton, whom he calls his "adopted son."