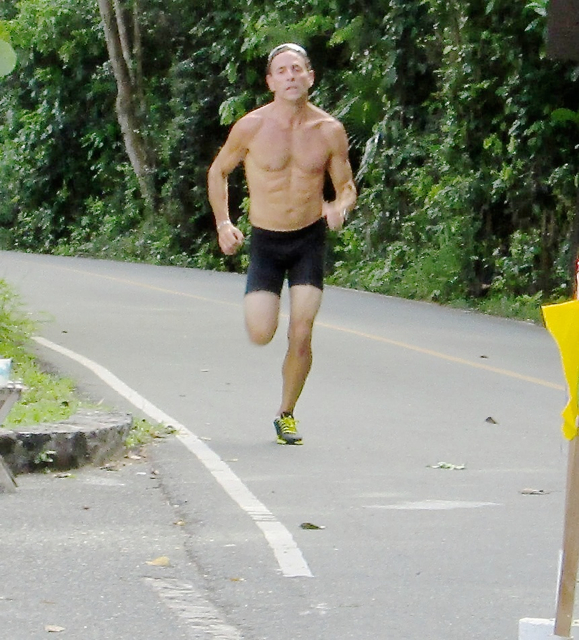 St. John residents Brent Lynn and Mary Vargo were the fastest male and female triathletes at Sunday's 15th annual Love City Triathlon.
The race started and ended at Maho Bay Beach, with about 50 people participating in three categories, plus a relay.
Lynn, who also won in 2012, beat out last year's winner, St. John resident Matt Crafts, by just about two minutes. His time was 1 hour, 51 minutes and 25 seconds.
"I was trying to catch Matt on the bike. He's a better swimmer and runner," Lynn, 35, said.
The two have friendly rivalry going, and second-place finisher Craft, 36, congratulated Lynn after he passed the finish.
"That was an awesome ride," Crafts told Lynn.
While Crafts, who had a time of 1 hour, 53 minutes and 24 seconds, admitted doing a little bit of training, Lynn said bicycling was all he did to prepare.
The third-fastest male triathlete was Lukata Samuel. An 18-year-old St. Thomas resident, he celebrated his birthday Sunday. His time was 2 hours, 15 minutes and 7 seconds.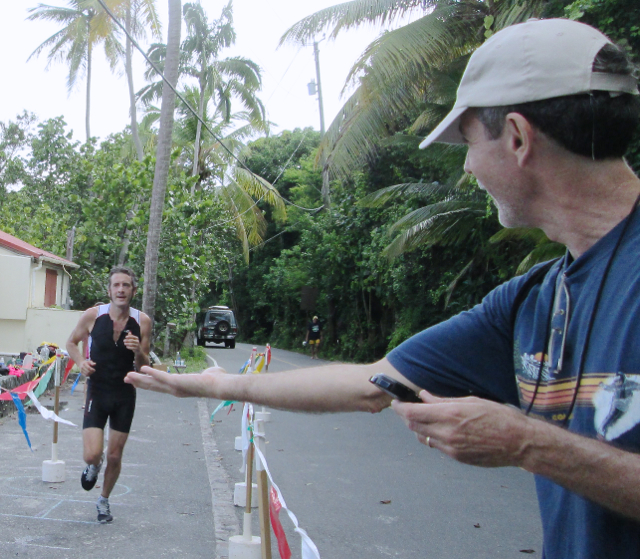 "I trained hard and didn't go easy," he said, adding that a broken gear box on his bicycle forced him to push it uphill.
Vargo, 30, had a time of 2 hours, 17 minutes and 16 seconds.
"This is the first time I biked the whole course," she said.
She said she pushed herself on the uphill with her bicycle and tried to keep the momentum going.
St. Thomas resident Gail Vento, 38, was the second woman triathlete across the finish line with a time of 2 hours, 33 minutes and 2 seconds.
"The course is tough and the bike ride grueling," she said.
St. John resident Jodie Tanino, 55, finished third for the women triathletes with a time of 2 hours, 36 minutes and 14 seconds. She faced her demons and got back on her bicycle after a serious biking accident at this event several years ago.
"It was monumental. I just got back on my bike right before the race," she said
The event also included an aquathon, in which participants did the swimming and running portions.
St. John resident Charles Hamel, 46, was the first male aquathoner across the finish, with a time of 47 minutes and 15 seconds.
"I got chased by a dog at one point," he said adding that he trains when he can.
Natasha Ruecheinski, 29, from Tortola, was the fastest female aquathoner with a time of 51 minutes and 15 seconds.
"I swam as fast as I could and held on in the rest. The run is quite tough but the swim is lovely," she said.
Another Tortola resident, Aaron Gardner, 33, was the second male aquathoner to finish with a time of 51 minutes and 42 seconds.
"I just chased down Tashi," he said, referring to Ruecheinski.
St. John resident Sarah Swan, 27, was the second woman aquathoner to cross the finish line with a time of 53 minutes and 47 seconds.
"I swim every day. My swim was a lot better than usual," she said.
Benjamin Lewis, 31, came over from San Juan to take third place in the men's aquathon with a time of 52 minutes and 48 seconds. He said perseverance was his key to doing so well.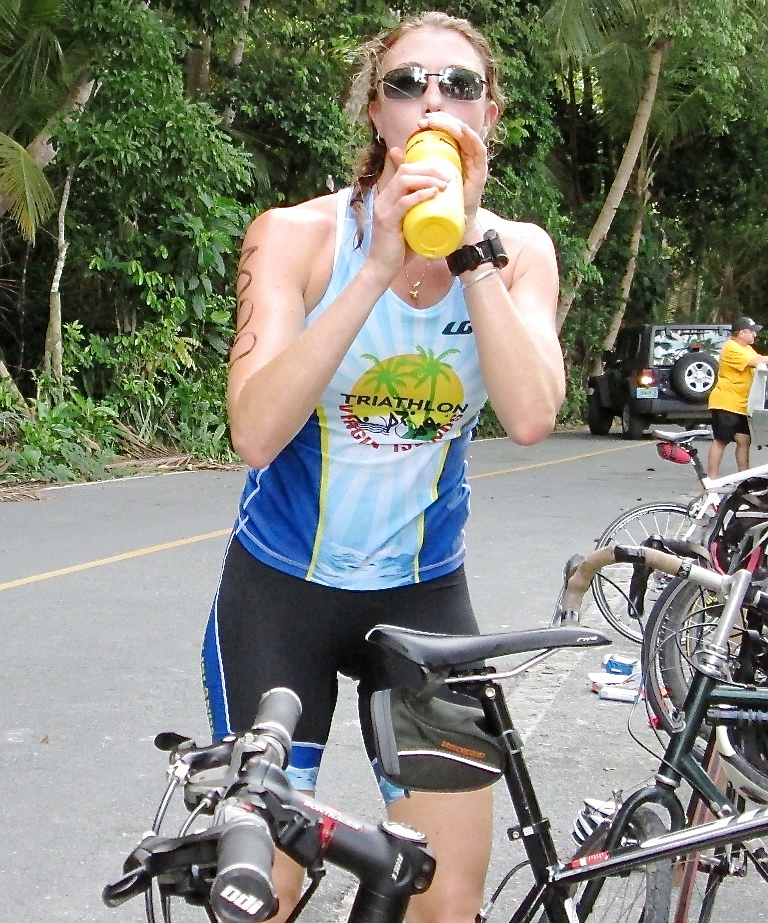 "It was hotter than I thought, but the swim was perfect," he said, noting the water was flat.
Megan Perrault, 27, of St. John, was the third woman aquathoner to finish. Her time was 58 minutes and 50 seconds.
"The run is the worst part," she said.
This year the organizers added a stand-up paddleboard component called a supathon. The participants swam, paddle boarded and then ran.
"It was no joke, it's not for the first-time paddle boarder," St. John resident Jude Woodcock, 58, who was the first woman across the finish, said. Her time was 2 hours, 15 minutes and 17 seconds. A member of the organizing committee, Woodcock said it was her idea to include standup paddle boarding in the event.
Thomas Hanna, 22, of St. John was the fastest man with the paddleboard. His time was 1 hour, 34 minutes and 28 seconds.
"I work out every day and I'm really competitive," he said.
Relay teams also competed by swimming, bicycling and running. The top prize in that category went to a team of Torey Lane, Thomas Layer and Kevin Chipman. Their combined time was 1 hour, 42 minutes and 12 seconds.
The triathletes ran a half mile, biked 14 miles from Maho Bay to Cruz Bay and back and ran four miles. The aquathoners skipped the bicycling part but did the swim and the run. The supathoners substituted a four-mile paddle for the bicycling part but did the swim and the run.
The St. John Landsharks, which runs the event, gave what members called an Interisland Award to the island whose top three finishers, including at least one female, are the fastest. It was won by St. John.
The Bill Gladfelter award for people who contribute to the event or have overcome adversity went to St. John residents Miles Stair and Karen Radke.
This event is run totally by volunteers, with Jeff Miller the chief cook and bottle washer.
"It could not be done without volunteers," he said, giving kudos to St. John Rescue for standing by in case an injury happens.
St. John resident Lori Barlas, clipboard in hand, was busy at the finish line. She said she volunteers because she loves the event.
"It's so healthy and I live vicariously through them," she said, vowing to get on a fitness regime.
Bern Putnam is also a perennial volunteer. He said he was an athlete when he was younger, doesn't enjoy competition any longer and would rather watch.
"And I like to be part of the community," he said.
The triathlon brought out slews of supporters and friends, including two of St. John's donkeys who for a minute, were headed for the finish as they ambled down the North Shore Road.
"It's actually a donkey relay team," volunteer Jason Kuczek said, announcing their arrival.
Full results will be available later in the week at www.lovecity-tri.com .