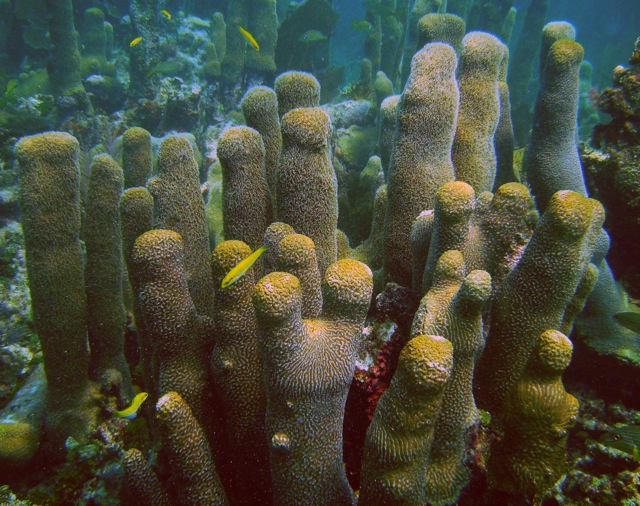 It's official. After several years of gathering information, the National Ocean and Atmospheric Administration Fisheries Service announced Wednesday that five more coral species found in the Virgin Islands were listed as threatened under the federal Endangered Species Act.
The Virgin Islands species listed include rough cactus coral, which has the scientific name of Mycetophyllia ferox, and Dendrogyra cylindrus. That species is better known as pillar coral.
Three species of star coral called Orbicella annularis, Orbicella faveolata and Orbicella franksi are also on the list.
Those five species join Acropora cervicornis, better known as Staghorn coral, and Acropora palmate or Elkhorn coral. Both were listed as threatened in 2006 and, until Wednesday, were the only coral species included on the threatened or endangered species list.
Requests were made to upgrade Elkhorn and Staghorn corals to the endangered list, but NOAA Fisheries biologist Stephanie Bolden said the studies indicated the endangered listing wasn't warranted.
In a release accompanying a telephone press conference, Eileen Sobeck, assistant NOAA Fisheries administrator, said the announcement is a significant change from the proposed listing in November 2012. She said that, since that time, many new scientific papers on climate change and coral habitat, distribution and abundance were published so that NOAA was able to consider and incorporate new information into the final decision.
NOAA also considered extensive public comments as part of the final rule making.
"It's been quite a journey over the years," Sobeck said at the press conference. "The final decision is a result of the most extensive rule making ever undertaken by NOAA. The amount of scientific information sought, obtained and analyzed was unprecedented."
According to the press release, the new information provided after the proposed listing was published strengthened the body of species-specific information available to NOAA for its final determination. The new information improved the agency's understanding of coral habitat diversity, abundance, distribution and species-specific exposure to threats and their relative vulnerability or resilience.
Sobeck said that coral reefs are one of the most biologically diverse ecosystems on earth, providing habitat for many marine species. Protecting and conserving these biologically rich ecosystems is essential, and the Endangered Species Act gives the agency the tools to conserve and recover those corals in most need of protection, she said.
NOAA Fisheries announced a total of 20 species would now be included on threatened list. The others are in the Pacific.
The reasons they made the list include threats from climate change, land-based sedimentation and overfishing.
The agency started out with 83 species that were proposed for either threatened or endangered listing. Staff initially winnowed that down to 66, but after slews of public meetings, discussions with professionals in the field and outreach, Sobeck said they were able to reduce the number to the 20.
"I feel confident we have a science-based decision," she said.
David Bernhart of NOAA's southeast regional office, said each species received individual evaluation of the threats it faced.
The threatened listing comes with the promise of assistance to states and territories, Sobeck said.
"We work through federal agencies and grants to states programs," Sobeck said, adding that the agency has more general programs that also provide help.
While the listing of Staghorn and Elkhorn in 2006 prevented "taking" of those two species, Sobeck said that is not the case with the newly listed species.
NOAA will continue to work with communities to help them understand how the agency's decision may or may not affect them. The tools available under the Endangered Species Act are sufficiently flexible so that they can be used for partnerships with coastal jurisdictions in a manner that will allow activity to move forward in a way that does not jeopardize listed coral. Currently no prohibitions exist relating to the newly listed species.
NOAA expects to work with partners on mitigation measures and recovery plans for the newly listed corals. These will likely include approaches that have shown success elsewhere such as watershed management to address land-based sediment pollution in the Virgin Islands and Hawaii, and restoration efforts in the Southeast where NOAA and partners are transplanting corals grown in nurseries to help recover degraded reefs.
Coral reefs are critical to the health of marine ecosystems, and they face severe threats. Coral reefs worldwide have declined significantly; some individual species have declined by up to 98 percent. Healthy coral reefs provide shoreline protection for coastal communities and habitat for a variety of species, including commercially important fish. These benefits are lost when corals are degraded.