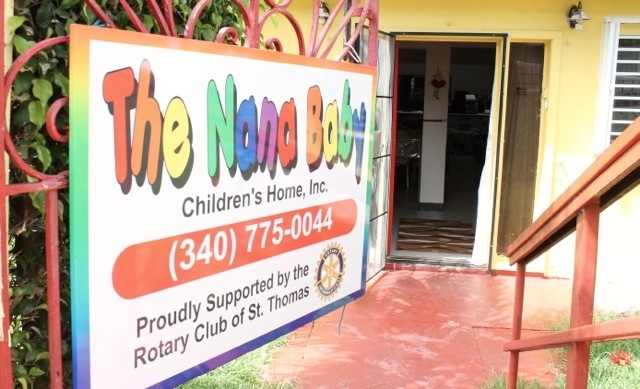 Organizers of the annual "King of the Wing" competition paid a visit to the Nana Baby Children's Home on Wednesday and cheered up the staff with more than $68,000 in donations toward the care of orphaned or abandoned children.
Nana Baby Home has received tens of thousands of dollars in donations from "King of the Wing" in the past five years. The home has a contract with the Department of Human Services, which refers children in need of shelter and provides basic funding for the Nana Baby Home's operations.
Those monies, however, only take care of the basics, according to Rotarian and Nana Baby President John Foster, which led them to look for other ways to raise funds. It was then that Charles Kim of Alpine Securities stepped up, said Foster, and came up with the idea for "King of the Wing."
The competition was created specifically to raise funds for Nana Baby Home and started with a small gathering at American Yacht Harbor. It then moved to Smith Bay, Foster said, and then on to Magens Bay as the crowd grew larger. He said Alpine Securities entirely funds the event itself and all of the proceeds go to Nana Baby Home.
Jason Charles, chief of external affairs at Alpine Securities and lead organizer of "King of the Wing" for the last five years, said they have managed to raise increasing amounts for Nana Baby each year, starting at $14,000 out of the first event to more than $75,000 in 2013, until 2014.
This year saw a slight dip, but $68,000 would go a long way, according to Foster.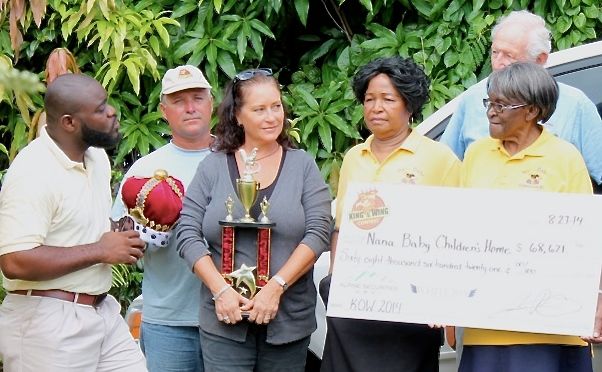 Charles said the event is a great community get-together enlivened by eager local restaurants and individuals ready to contribute to the cause.
"I think it's because of where the money goes – the Nana Baby Home – that there are more efforts to get involved," Charles said.
Foster, who has served as president of Nana Baby for 25 years, recalled how Nana Baby began.
"I found some children on the side of the road up in Nadir, so I stopped and asked where they were living," he said. "A lady came out and it was Louise Ali, and Louise started the home."
Nana Baby Home officially opened in 1989 under Ali's direction, and with the help of Rotary of St. Thomas, who helped fix up the facility. Then Hurricane Hugo came and blew the roof off.
"The only safe haven we had was actually Louise's own home," said Foster. "We sheltered everybody here and set about improving it so we could accommodate the children."
That was when the community stepped up in numbers, Foster said, and offered to do what was needed to make the home comfortable for the children. Today Ali's home is a secure facility with bedrooms, playrooms, a playground and a dedicated vehicle for ferrying children, including to and from their respective schools. Most of the furniture or children's items in the home were donations.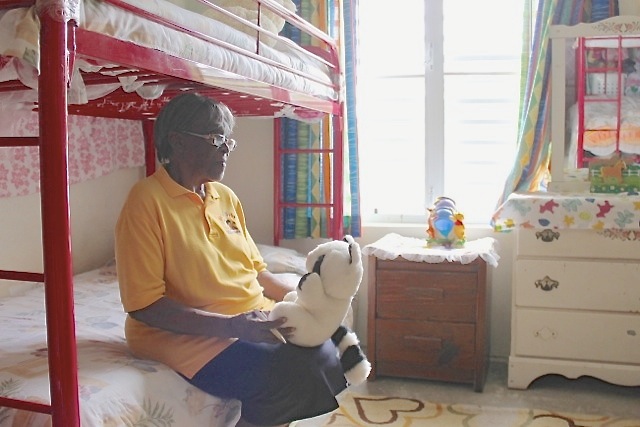 When Ali died of cancer in 2005, her sister Beulah Wilson, who had been helping Ali since the home opened, took over management.
At any time, Nana Baby Home can ideally accommodate 12 children, said Wilson, between the ages of infancy and 12 years, but sometimes that limit gets pushed by two or three more children.
Over the years, Nana Baby has taken in about 500 children in need of shelter, according to Foster, some of whom came straight from the hospital as soon as they were born.
"Some may stay a few years, some a few days," said Wilson. "It depends on the situations, whether they get placed in a permanent foster home, or their situation changes and they go home."
Nana Baby Home tries to reunite children with their natural parents if they are deemed capable, according to Foster, or the grandparents. They also try to place the children in adoptive families, Foster said.
Charles said Alpine Securities is aiming higher for next year's Nana Baby fundraising event.
"It was a Virgin Islands thing," said Charles about this year's "King of the Wing" competition. "Now we're going to try to branch out and see if we can get more teams from the States."
Foster said all the fundraising is worth it next to the impact Nana Baby Home makes on the lives of the children who escape the stigma of being abandoned or orphaned.
"Our most heartfelt sensation really is at Christmas," shared Foster. "These kids actually come back here to see Beulah and the staff, and say, 'This is where I grew up. This is home.'"