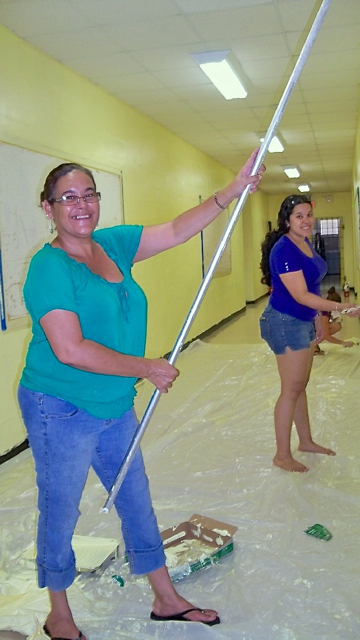 Volunteers from the community are taking it upon themselves to take care of Ricardo Richards Elementary School, sprucing it up for students' return after Labor Day.
On Saturday, about 20 volunteers from American Legion Post 102, V.I. Chapter Tuskegee Airmen, V.I. Youth Aviation Program, and parents and grandparents of Ricardo Richards students painted the halls a bright, sunny yellow. The volunteers also painted the frames around hallway bulletin boards a fire-engine red that really stands out on the yellow walls.
Annie Day Henry, past commander of Post 102, said one of the pillars of the American Legion is to support children. The members of the post adopted the school two years ago. She added a lot of local students have parents serving in the National Guard.
"This is truly the village taking care of the village," Henry said.
Colleen Williams, principal at Ricardo Richards, said the volunteers provide a lot of desperately needed things.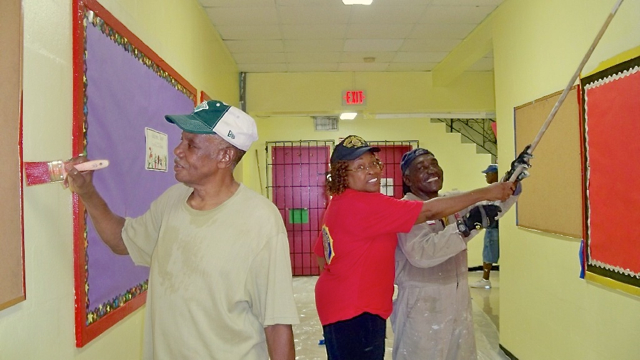 "It's a great feeling being adopted and having people that help," Williams said. "I'm really excited about our partnership. Every little bit they do helps and comes in handy."
Zeta Phi Beta sorority also helps the school, she added.
Henry said they want to paint all the doors, bulletin boards and the gate, and get an outdoor notice board. More than 40 gallons of paint were donated by the Legion. They also gave five new rolling trash cans, a supply of trash-can liners, and they will give hand sanitizer. She said fundraisers provide for the projects.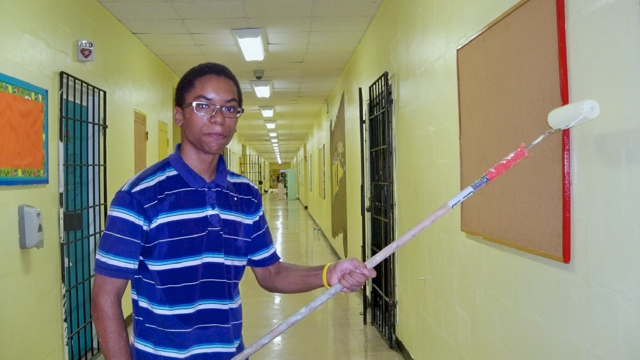 Legionnaire Floyd Petersen said when he was a student back in the 1960s, he painted schools in a youth summer job program. He said he feels good being able to paint again, only this time as a volunteer. People have to step up because the government can't do it all, he said.
Jasmin Nieves, who has a daughter attending Ricardo Richards, said every parent should help with supplies or do volunteer work.
"Kids get to go to a free school," Nieves said while she painted. "So all parents need to take some responsibility for the school."
Debbie Johnson, a Legion member, said she gets pleasure from helping the children. She added she wished more people felt the same way and went out and volunteered.