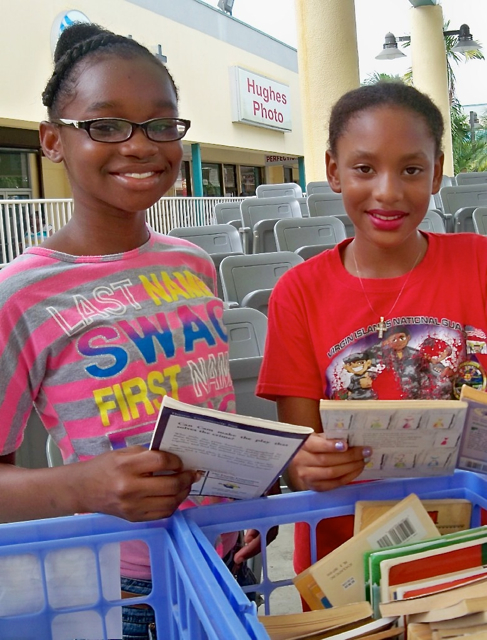 More than 100 children left Sunny Isle Shopping Center Amphitheater Saturday with free books to take part in the sixth Governor's Summer Reading Challenge.
The program continues through Aug. 15 and is open to students in public and private schools between kindergarten and eighth grade. The initiative encourages children to read and helps them to discover and collect books they can use to start their own libraries.
Children eagerly pored through plastic crates and baskets of gently used books provided by the Family Connection under the Community Foundation of the Virgin Islands. Other children patiently waited in line to get air-brushed temporary tattoos.
Catalina Ledesma, administrative assistant to Dodson James, St. Croix administrator, was walking around Sunny Isle reaching out and encouraging parents and children to stop by the amphitheater to sign up for the program.
Jean Collins, a local parent, said the program encourages reading, which is good for kids. She added her children have taken part in the program since it began.
"I'm concerned about the program continuing when the governor is out of office," Collins said. "I really hope the next governor will pick it up."
Collins' daughter, 11-year-old Makayla Collins, said she loves to read and the more books she has the better. And Makayla's friend, Sarah Joseph-Corino, 10, said she loves to read everything she can about animals.
Angeli Ferdschneider, special assistant to the governor, said they ordered 3,600 books. She said they will distribute 1,600 books to all the local summer camps. Each book has a special message from Gov. John deJongh Jr. printed on the first page.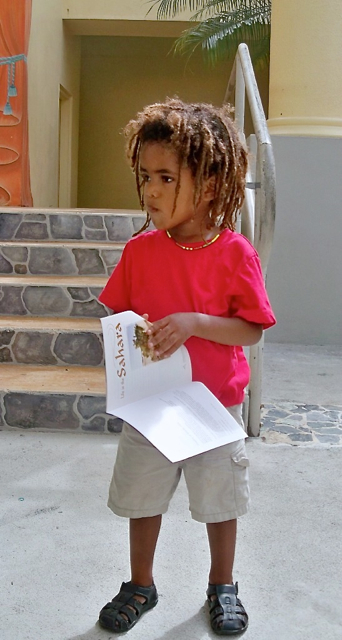 "This is a good way for students to start their own little libraries at home," Ferdschneider said. She added it was a pleasure seeing children register that had not taken part in the program before.
"We're happy to get books in the hands of children," Ellie Hirsh, a consultant to the Community Foundation of the Virgin Islands, said.
She added the Family Connection has given out 10,000 gently used books in four years. She said they got a lot of books from Country Day and Good Hope Schools when they merged.
The library's bookmobile was in a prominent spot in the parking lot where everyone could see it and stop to sign up for library cards and check out books.
"We aim to please and we're here to serve," Ricki Marshall, systems and programs librarian, said while signing up patrons.
Ingrid Bough, territorial director of Libraries, Archives and Museums, said the kickoff drew a steady influx of parents and students.
"It was nice to see a lot of children interested in getting more reading material," Bough said. She added it was wonderful to see a lot of boys registering for the program.
"Literacy is for life and for all of us," Bough said.
Trevon James, 9, said this was his second year doing the challenge.
"Reading is fun," James said. "I like to read about sea life, and the party at Canegata last year was fun."
Reading Challenge participants who keep track of their reading and complete five or more books will be invited to a Fun Day with the governor at the end of the summer to recognize their achievements.
Students can learn more about the Governor's Summer Reading Challenge at www.readfive.org and are encouraged to visit the Facebook page.
The kick off was also held at Tutu Park Mall on St. Thomas and at the Virgin Islands Housing Finance Authority Housing Expo at the Sunshine Mall Saturday.
The books given to the children when they signed up at the kickoff were written by authors from the U.S. Virgin Islands. The paperback books given out were "Footprints Into the Sunrise" by Alscess Lewis-Brown, "Little Lenty" by Phyllis Gershator, "Malcolm and the Money Tree" by Eudora Esdaille-Richardson and "One Lucky Duck" by Elaine Eastern.
The Governor's Summer Reading Challenge is a partnership between the Office of the Governor, the V.I. Department of Education, Virgin Islands Public Libraries and the Community Foundation of the Virgin Islands. TV2 is a sponsor of program.