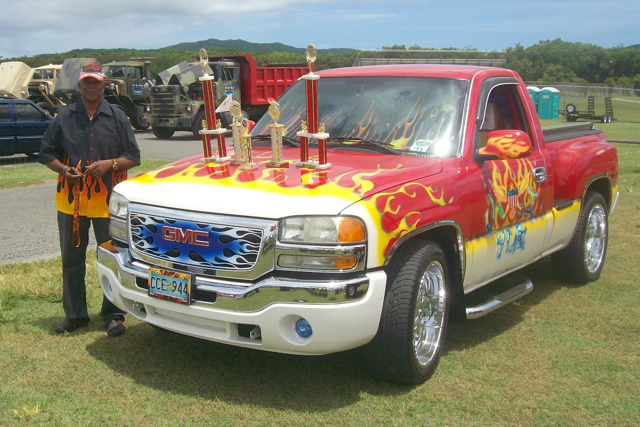 Vintage Volkswagen Beetles and other cars, motorcycles and pickup trucks, all decked out in glimmering paint jobs and unique designs, were on display at the V.I. Transportation Expo Saturday afternoon at the St. Croix Educational Complex High School.
This year's event was the second annual show, hosted by the Career and Technical Education Center in collaboration with NAPA Auto and Truck Parts. The vehicle and sound system exposition showcased more than 100 entrants from both students enrolled in the C-Tech program and the general public.
"The event is a collaboration of industry, community and student work," said C-Tech Assistant Principal Joseph Schrader, the event organizer, bringing together work the students completed in workshops and auto enthusiasts from the general public.
Charles Christian, who won the 2013 expo, brought back his 2004 GMC truck dubbed "V.I. 4 Life," decked out in a flame motif, to this year's competition.
"I have this truck for 10 years now," Christian said. The truck's interior and exterior were personalized by local individuals to represent the territory.
"The flames are V.I.," he said, representing the territory because the combustions are random, but all stick and fight together.
Christian said he invested $500 in his paint job and it was worth it since the quality has lasted for many years. When asked about his quest to win this year's event and plans for next year's competition, Christian said he'll "keep the flames burning."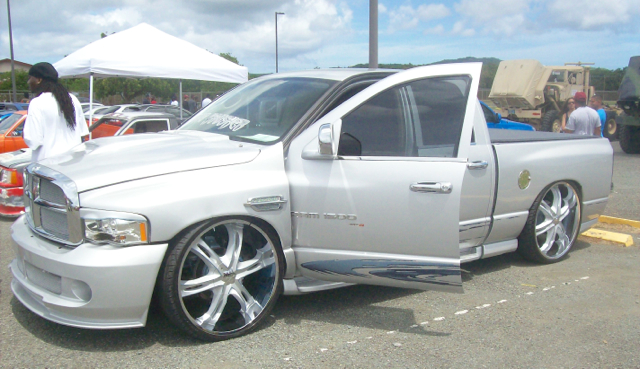 Ramon Cuencas brought out his 1967 Beetle. Cuencas recently moved back to the territory from Pennsylvania and thought entering the expo on St. Croix would be a great idea. He is vice president of Old City Oil Drippers, a vintage VW club, and a member of the South Jersey Volkswagen club.
Cuencas said he bought his Beetle in 1992 and has been taking part in car shows for 22 years.
"I'm glad St. Croix is having an organized event," he said.
Cuencas said the event is great for motorists to show off their creations, since St. Croix has no car track.
Dan Lundgren brought out his two-door Alfa Romeo Spider Veloce. After he bought the Italian sports car from his father, Lundgren said he kept it in its original condition.
Chad Pringle brought his 2005 silver Dodge Ram truck, decked out with 28-inch rims on the wheels.
"I spent four years on this truck," Pringle said.
Neil Sookraj took a different route with his 2009 blue Toyota X Runner. With the handful of entrants making additions on his or her cars over the years, Sookraj customized and made all of his renovations for his truck, "Blue Ice," in 2010.
"I have 22-inch rims, JL amps and a JVC deck," Sookraj said. This is his first time taking part in the expo on St. Croix.
Throughout the event, Metro and Straker Motors car agencies advertised a few of the cars they brought from their lot. A remote control car, coasting bike and lawnmower races took place, and bouncers were available for the kids.
At the end of the event, the entrants were judged for interior quality, exterior, quality and sound system, and attendees voted for People's Choice. The winners received trophies.
A ride out motorcade is scheduled for Sunday.