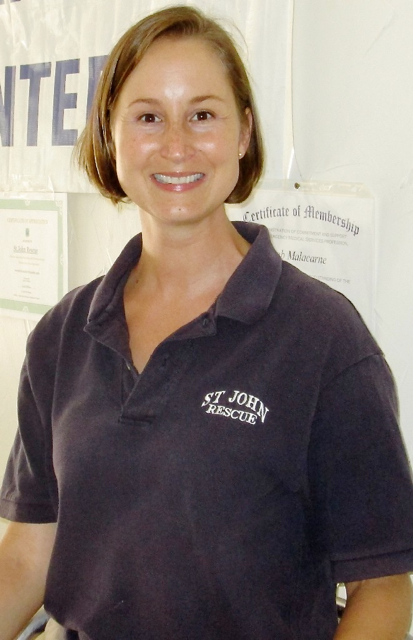 Maya Matthews-Sterling wanted to get involved in the community when she moved back to St. John.
She looked around at what organizations needed help, and St. John Rescue caught her attention.
"I like the service we provide," she said.
Matthews-Sterling, 35, joined about a year ago and is now the organization's treasurer.
She already had some long-ago experience as a member of a search and rescue team in New Mexico. Additionally, she holds a master's degree in international public health with a specialty in disaster and emergency from Tulane University in New Orleans. She also has a bachelor's degree in international relations from Goucher College in Baltimore.
Since joining St. John Rescue, she's taken numerous courses, including a recent one on trauma and life support, which led to certification in that field.
Matthews-Sterling said she wishes others would follow in her footsteps at St. John Rescue. The organization always needs new members, and Matthews-Sterling said they don't have to respond to emergency calls. The organization utilizes myriad volunteers doing jobs as diverse as website design, grant writing and vehicle maintenance.
"There's always a project to do," she said.
The organization also transports those who have died because no one else will do it.
"It's not a job anyone likes but someone has to do it," she said.
Members of St. John Rescue respond to emergencies when notified that help is needed by the government-run Emergency Medical Service. Members are always called out when a boat is needed, when they need someone to rappel down a cliff or hike up a trail, and when help is essential at vehicle accidents.
"We have responding members all over the island. So if we are made aware of an emergency we can often be on scene to respond during the critical golden hour," she said, adding that St. John Rescue can often get there far quicker than EMS because members and vehicles are stationed closer.
Matthews-Sterling said her volunteer work usually takes only about an hour a week, and she attends the regular monthly meeting at 7 p.m. the first Thursday of every month at St. John Rescue headquarters on Centerline Road in Pastory.
"Come to a meeting and see what it's about," she said.
She said the organization's members are open to new ideas and partnerships to help improve life for St. John residents.
When she's not volunteering for St. John Rescue, Matthews-Sterling puts in long hours as a partner with her husband Kevin Schnell at their Caribbean Solar Co. She said she's the behind the scenes person who handles the financials, paperwork, promotion, and advertising.
Matthews-Sterling was born in Cuernavaca, Mexico, because her parents had a business there. After her parents divorced, she and her mother, Shannon Sterling, lived in New Mexico, Colorado and California before eventually moving to St. John. They had ties to the island through her aunt, St. John resident Jo Sterling.
She moved back and forth a few times, eventually returning with Schnell several years ago.
Life is busy, thanks to her paying job and volunteer work with St. John Rescue, but she and her husband try to get to the beach at least once a month.
"We made it twice this month," she said.
Information about joining St. John Rescue is online at www.stjohnrescue.com.