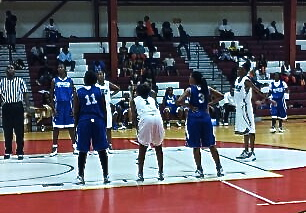 Elite V.I. high school basketball players will face off in the 16th annual Sun Stroke All V.I. Hoop Classic on Saturday at the St. Croix Educational Complex gymnasium, showcasing their talent for the community.
According to Sun Stroke Productions, which puts on the annual extravaganza, the 2014 V.I. Road March Champion Stylee Band will start this one day event, beginning at 5 p.m. Outside the gym, children can play on Jorge the Mechanical Bull and in inflated bouncing houses.
At 6 p.m., before the real athletes take the court, senators, entertainers and members of the media will compete in a "celebrity" game.
Next the St. Thomas girls all-star team will go head to head with the St. Croix girls all-star team, followed by the St. Thomas and St. Croix boys all-star teams. Afterwards, Stylee Band will return to the stage to close out the day.
This year Sun Stroke invited some V.I. veterans who were wounded in service as honorary guests. San Antonio Spurs power forward Tim Duncan has sponsored the travel for St. Croix military veterans Sgt. Ian Parkinson, Sgt. Ricardo Perez Ramos and Col. Ben Mitchell.
The classic was started in 1999 under the guidance of Rashidi Clenance, Sun Stroke Promotions president. In 2005, Duncan and the Adidas shoe company became sponsors of the annual event that is used to showcase the V.I. talent and provides increased competition and collegiate visibility.
The Buccaneer Hotel, Budget Rent A Car, Malone for Congress and Choice Wireless all helped sponsor this year's Sun Stroke Classic.
For up-to-date news and information about the Sun Stroke Classic, follow its Facebook page at http://www.facebook.com/SunStrokeVI.
Entry is $12 for adults and $5 for children under 12.