Three dance students from St. Croix's Music in Motion company have been accepted into the intensive summer program at Dance Theater of Harlem, the prestigious New York-based company.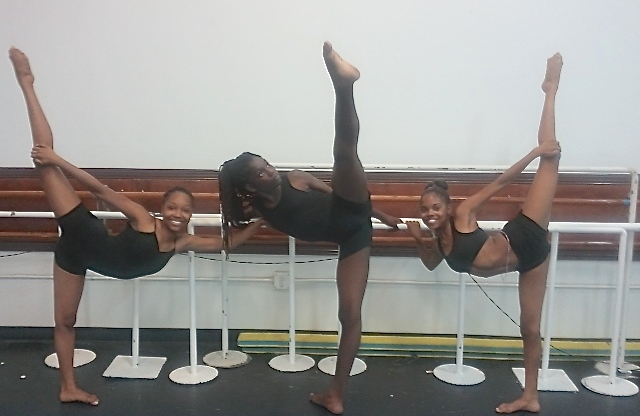 Dyarah Powell, 16, AnutMeri Christopher, 15, and Amal Bryson, 15, auditioned and were accepted into the program. They will travel to New York this summer for an intensive three-week program with students from around the world.
"This is one of the biggest steps, a complete life-changing experience for them," said Charlita Schuster, founder and artistic director of Music in Motion.
The three young dancers will have their work cut out for them before they leave in June for New York. They and Music in Motion have to raise the money to pay for the program – a total of about $10,000, or roughly $3,000 per person.
Founded in 1969, Dance Theater of Harlem is among the world's elite dance companies, with a racially diverse corps of professionally trained dancers performing a demanding repertory on the world's stages, plus an educational arm that trains young people in classical ballet. Thousands of students all around the world audition for the intensive summer program and only a few hundred are accepted each year.
This summer's program, from June 23 through July 11, covers training in classical ballet technique, including pointe, pas de deux, improvisation and choreography.
Schuster said it's extremely competitive and she was a little surprised that all three of her students made it in. That all three did was a delight, she said.
Powell is a sophomore at St. Croix Central High School. The daughter of Steven Powell and Daveen Cannonier, she has danced with Music In Motion for nine years. Dyarah Powell said she will represent the Virgin Islands to the best of her dance abilities.
Christopher is a high school senior who attends Per Ankh Home School. The daughter of Carl & Dr. Chenzira Christopher, she has danced three years with Music In Motion. AnutMeri Christopher said she hopes to develop her skills in classical dance and improve her technique to become a stronger, professional dancer.
Bryson, a sophomore at St. Croix Educational Complex, is the son of Madanile Maynard – known professionally as Mada Nile, the Crucian reggae singer. Amal has danced with Music In Motion for four years. Bryson said he hopes to become a part of an international dance company.
Powell, Christopher and Bryson are, in a sense, following in Schuster's footsteps. As a young dancer, she studied at Dance Theater of Harlem after graduating from New York's High School of Performing Arts. She founded Music in Motion in 1983, training dancers from age 3 to 19 in a disciplined program emphasizing positive behaviors and attitudes while training students as if they are all potential career dancers. Besides ballet the curriculum includes tap, jazz, modern, lyrical, hip hop and cultural dances, including African, calypso, quadrille and Latin.
While earning acceptance in this summer's program is a high point, Schuster said Music in Motion dancers have had their share of success, going on to study at the Interlocken Arts Academy in Michigan, the Rock School for Dance Education in Philadelphia and the Alvin Ailey American Dance Theater. It's part of the company's focus, she said, to encourage her students to think of themselves in the wider world.
"After they graduate high school we get them auditions to study in intense programs so they can know how to be a professional dancer, how to be around professional dancers and theaters," she said.
Schuster noted that this summer will mark Dance Theater of Harlem's 45th anniversary.
"It is so great to know Music in Motion is part of their 45th anniversary season," she said.