For the rest of the week, policy makers engaged in an introductory course in economic development are focusing on coming up with comprehensive planning strategies that officials say "will bring everyone on the same page" when it comes to attracting, retaining and boosting local businesses.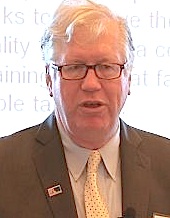 The course, held at the Marriott Frenchman's Reef Hotel, brings in Jeff Finkle, president and chief executive officer of the International Development Council, to lead the pack of business, government and education representatives. Finkle's introductory course is a first step for everyone in the group, who can then take additional courses online to become a certified economic developer, according to V.I. Economic Development Authority organizers sponsoring the event.
"For the next three days, we're placing our stakeholders, staff and community partners concerned about how we are driving our economic development strategies into a discussion that's focused on how we're creating and expanding businesses in the territory," said Jennifer Nugent-Hill, EDA's assistant chief executive officer.
"During this conference, we're talking about how we're going to approach this and what are the specific things we should be concerning ourselves about," Nugent-Hill said.
The goal is to create a taskforce within the EDA that can eventually help develop policy, she added. For example, if the EDA is focused on attracting certain businesses to the territory, other agencies – from Tourism to Labor – should be part of the negotiations, looking at things ranging from providing additional airlift to training qualified local employees.
"We're starting from the beginning, looking at what economic development is and what the best practices are we can employ in the territory, and we're also putting heavy emphasis on those policies that can stimulate economic development opportunities that can create growth and retain the businesses that we have," said Nugent-Hill. "Our goal is to make the broader community think about and understand what types of policies we should be putting in place."
During the kickoff day, Finkle spoke about the roles each sector of the community should play and what exactly the purpose of a certified economic developer is. Analyzing local data, serving as a catalyst for economic growth, and advocating for the community and what it has to offer is all part of the strategy for attracting businesses, he said.
The government can also be used as a resource for funding, training and technical assistance, Finkle added.
Speaking later, Nugent-Hill said that once local stakeholders understand their roles, then they can help drive policy within their own departments, agencies, organizations and businesses.
"We want everyone to have the same vision of what economic development is and, after three days, our hope is that everyone will come together as a group to make policies that are not conflicting," she added.
Anyone that takes the next step in becoming certified will then become part of what Nugent-Hill called a "specialized group of individuals" that are able to not only make a policy, but effectively implement it and help put others in place.
Speaking later, EDA Chief Executive Officer Percival Clouden said he was happy with the day's turnout and hoped that more participants would see the need to open up and support local businesses.
"We want to see more entrepreneurship activities," he said. "And within the EDA, we're primed to help. Our Government Development Bank, for example, helps fund those startups that the commercial banks shy away from; we take the risk to fund these ventures, then we release them and educate them through the Small Business Development Center and put them into the mainstream."
"Looking at the turnout today," he added, "that's an indication that our territory is interested in economic development, so we're excited to see what happens from here and we're hoping to get as many people involved in this mission so that we're all moving in the same direction."