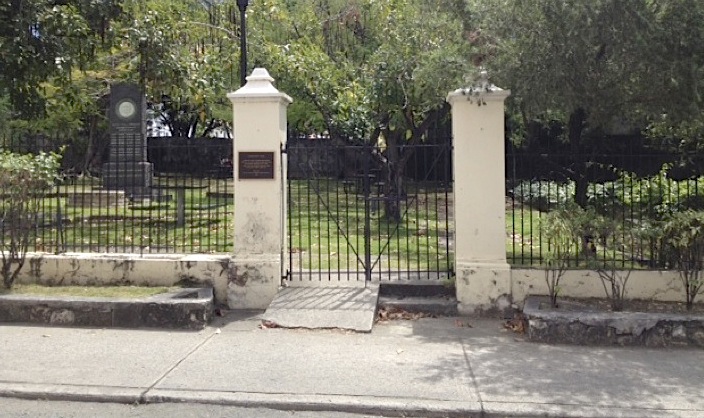 Normally seen only through a closed wrought iron fence, the lush and shady Limpricht Park will be open Saturday for a bazaar of vintage collectables, art, food, crafts, entertainment and plant sales hosted by the Christiansted Community Alliance.
"It's to bring the community together and revive Christiansted," said Mary Dema, Community Alliance organizer. "To bring attention to the gorgeous park and make people aware they can use it – we're also encouraging entrepreneurship."
Even before the fair opens Saturday, people will notice a big difference in the park. Volunteers cleaned the grounds with the help of the V.I. Parks and Recreation Department and William "Cheech" Thomas removed a large, dead tree stump.
The free event will include art and crafts for sale from well-known artists Jane Akin, Betsy Campen, Yemaya Jones, Twila Wilson and others.
The Friends of the Library will have books for sale and to give away, and volunteers will read children's stories all day, according to Dema.
There will be plants available from the St. George Village Botanical Gardens, the Orchid Society and other vendors who will also offer herbs, spices and hot sauces for sale.
Retailers will include Tesoro and food vendor Isaac Thomas, who appeared on television's Bizarre Foods when the show was filmed on St. Croix. He will be selling his famous pates and other delectable treats.
Others will be on hand to distribute information about their organizations, including the St. Croix Historic Society, the Tuskegee Airmen and Youth Aviation.
Master wood carver, Bien Brignoni will demonstrate his art throughout the day.
The Christiansted Community Alliance has been active for the last few years cleaning up and beautifying downtown Christiansted.
During the annual cleanup, usually in October, volunteers spruce up the area for tourist season and remove debris that could be dangerous in case of a hurricane.
Last year the group pressure-washed buildings on King Street from the Florence Williams Library to the Scale House. They arranged posters, literature, photos, dolls and other props in the windows of empty storefronts to advertise St. Croix.
With the help of David Hamada of the Botanical Gardens, planters were filled with new greenery and flowers.
Inside Caravelle Arcade, Cynthia Hatfield's art classes revived storefronts with large posters on canvas and vinyl and large graphic images promoting the themes "Open Up St. Croix" and "Christiansted Matters."
Christiansted shoppers now can learn, just by strolling through town, about Crucian Heritage and Nature Tourism, St. Croix Landmarks Society, the St Croix Hibiscus Society and St. Croix Avian Rehabilitation.
This year the Alliance has focused on the Christian "Shan" Hendricks vegetable market. Volunteers from the St. Croix Foundation repainted the area with supplies donated by the Mid Isle Rotary Club and the Sherman Williams paint store.
More venders have been showing up each Saturday to sell their wares between 8 a.m. and 3 p.m., according to Dema, and the St. Croix Fire Department has agreed to clean the market weekly.
Dema said money donated to the community group Saturday, or any other time, will be used to help continue refurbishing downtown and to research urban forestry grants. They plan to apply for grants to replanting and landscaping areas of downtown Christiansted. Most grants require matching funds, she said.
The Limpricht Park Fair will be open from 10 a.m. to 4 p.m. Quality Electric is the event sponsor.