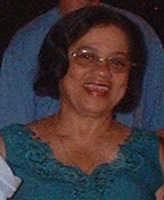 Magdalin "Maggie" O'Neal died on March 10 at her residence. She was 73 years old.
She is survived by her husband, Kenneth Derry O'Neal; sons: Kenneth and Derrick O'Neal; daughters: Maria O'Neal Wallace, Marcella O'Neal and Lisa Singh Testamark; grandchildren: Dean II and Michael Wallace, Joa O'Neal, Allyson Testamark, Glen Testamark II, and Nika, Taryn, Sonrisa, Darius, Solyce and Djarin O'Neal; son-in-law, Glen Testamark; daughters-in-law: Angela Roberts O'Neal and Jade Bryan O'Neal.
She is also survived by her brothers: Kenneth, Dougal, Arthur and Navarro Niles; sisters: Enid Niles Blyden, Vadis Niles Thompson, Moira Niles Roberts and Gertrude Niles Swan; brothers-in-law: Cele Ross and Ive Swan; sisters-in-law: Felicia Niles, Lorraine Smith Niles, Joyce O'Neal Richardson and Annette O'Neal Scantlebury; special nieces and nephews: Jacqueline Simpson, Lynelle Niles, Kerry Drue, Cedelle Niles, Denelle Niles Brown, Celeste Ross, Clarissa Thompson Rustinberg, Patricia Stephens, Deborah Harrigan, Arturo Niles, Novaldo Niles, Lyle Roberts and Niles Roberts.
Other survivors include special family and friends: Anton and Noreen Esanason, George and Sadie Moolenaar, Benjamin and Jonetta Hill, Oren Stephens, Allan Eason, Delphine Lewis, Merle Morgan, Delma Hodge, Brandon and Lorraine Richardson, Dean Michael Wallace Sr., Laurence and Judith Bryan, Norma Bryan and many others too numerous to mention.
Services will be held at 10 a.m. on Wednesday, March 19, at Holy Family Church. Burial will be at Eastern Cemetery.
Funeral arrangements are by Hurley-Davis Funeral Home.