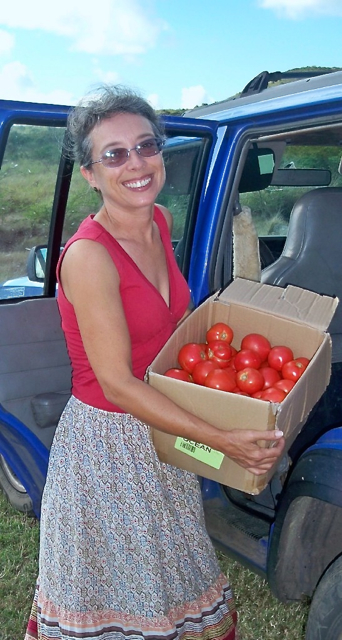 Toni Downs is as busy as the bees who produce the products she sells every Saturday in Southgate. Folks from the east end were buying fresh products Saturday as Toni, with her long print skirt hiked up, scurried setting up displays while chatting with customers.
Downs, who has been a passionate beekeeper for 15 years, said she moved to paradise three years ago from Pleasureville, Kent., where she was an administrative assistant working in an office. She met Wanda Wright, a St. Croix beekeeper, at a bee convention in Kentucky about five years ago. In 2009 Wright of the W-right Apiary, invited Downs to St. Croix to attend beekeeping workshops and Downs helped her in the beekeepers booth at the Agriculture Fair.
Downs said she fell in love with St. Croix, the locals, and in particular the people in the beekeeping community, and decided to relocate and work at her passion of beekeeping. She said there is a special fellowship and networking among beekeepers.
Downs is fairly new on the scene as a vendor and said she didn't expect business to take off like it has.
"It's amazing, business has taken off like a house afire," Downs said. "Being regular and consistently out at events and shows makes a difference. People see you over and over and trust you and your products."
And customer service is important to Downs. She explained she concentrates on her body products and not bottled honey because there are plenty of other beekeepers selling great honey.
Downs has a dozen hives in a rural area that house strong, disease-resistant honey bees. From those bees she gets beeswax to make candles, body lotions, lip balm, and weather-seal leather conditioner. Her specialty and most popular item is her beeswax soap made from palm, coconut, castor and soybean oils. She said the pale gold colored soap is very good for the skin with nutrients and moisturizing ingredients and 100-percent Virgin Islands beeswax.
Naturally, fruit goes along with beekeeping and she is into the value-added market branding on St. Croix, so she cans jelly, chutneys, relish, pickled limes and green tomatoes, letting nothing go to waste. When folks return jelly jars to be recycled she gives back a dollar.
Downs is working at perfecting new products, such as mead, a fermented honey drink, as well as wine, water, fruit and spices.
At the markets, Downs sells her own fresh salad greens and augments that with whatever produce Violet Drew, a farming friend, supplies her with. Saturday there were kale, zucchini, yellow squash, lettuce and beautiful tomatoes.
Downs also does bee extractions and speaking engagements on honeybees and beekeeping. She offers soap-making workshops and does talks for school children. She said she would like to start canning classes.
Her soap, which is the most popular item she produces, is available at Cache of the Day and Big Beard's Adventure Tours in Christiansted and JoyAnns. From 3:30 to 6 p.m. Wednesdays Downs sells her products in the courtyard behind Polly's at the Pier in Frederiksted with the V.I Locally Grown organization. The farmers market in Southgate is from 8 a.m. to 2 p.m. at the corner of Routes 82 and 60, before Cheeseburgers in Americas Paradise.