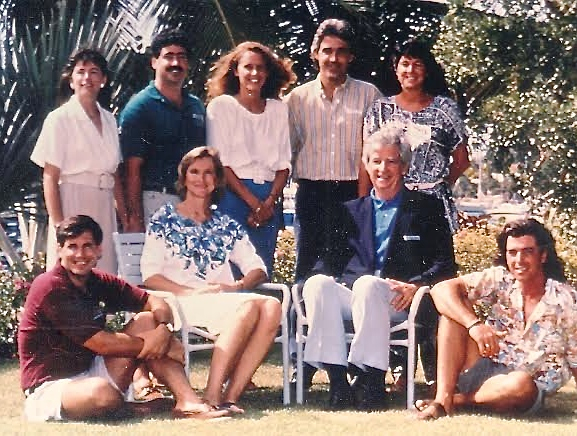 The southeast coastal area of St. Thomas looked a lot different in 1969, when Richard and Paul Doumeng moved from New York to the island. But then, they looked a bit different too. The future managing director of Bolongo Bay Beach Resort, Richard, was 13; little brother Paul, now general manager, was just six.
The property that would later boast the popular resort was then called "Shell Beach." It was home to seven efficiency apartments and connected to the outside world by a dirt road. It would be a few years before it was transformed into one of the first real beachfront hotels on the island.
When their parents divorced, the kids ended up in Florida. Their father, the indomitable Dick Doumeng, remarried and remained on island, where he had started a career in real estate sales and development. He played a large role in establishing both Compass Point and Watergate, Paul recalled. Then he used "sweat equity" to buy into the Bolongo Bay property.
Soon there were two main buildings on either side of the original units for a total of 37 rooms, and Dick and wife Joyce were running a proper – though flip-flop casual – resort. It opened in 1974 and this year is celebrating 40 years of continuous operations. Dick passed away in November 2012, but Joyce is still involved, as are a host of children, in-laws, grandchildren, cousins, and a few longtime staff who are just like family.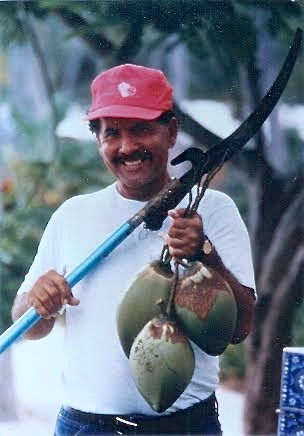 For a few years, the Doumengs were also running the nearby Elysian and Limetree resorts, but now it's back to just Bolongo Bay, where they emphasize entertainment, easy living and a friendly atmosphere.
Although they grew up on the mainland, Richard and Paul spent many a school holiday and lots of summers on St. Thomas.
"Every time we visited, we worked here," Paul said. "It was just part of the deal."
Over the years, he worked as a beach attendant, waiter, kitchen help and an underwater dive instructor. Richard oversaw the Diving Club, and "was always hotel restaurant boy." But all that experience didn't automatically translate into careers.
"We all have different stories" of moving back and forth to St. Thomas and in and out of the hotel business, Paul said.
"We never thought we wanted to take over the family business," Richard said. But by the early 1990s, both men took the plunge. Their wives are also involved, Katarina as marketing manager and Colleen handling advertising and public relations.
The extended family includes many long-term staff members. In fact, three current employees have been at Bolongo from the start: landscaping supervisor Leslie Phipps,restaurant supervisor Viola Albert, and Silvia Greene in housekeeping.
A friendly staff is key to the atmosphere Bolongo creates. As Richard put it, "Guests are known by their name and not just their room number."
Personal touches may be as simple as hanging up a colored paper banner welcoming repeat guests or acknowledging them at the Tuesday night manager's cocktail party.
One young woman, the daughter of a couple who frequently vacationed at Bolongo, recently returned to have her wedding on the beach, Paul said. And she wasn't the first to return for a special occasion.
In fact, "We're on our third generation of hotel guests," Richard added.
Much of the hotel's appeal is the laid back, fun-infused life style that it promotes. Guests know they have left their routine lives behind.
"People do feel like they've stepped away when they get here," Richard said.
Bolongo advertises itself as the most entertaining spot on St. Thomas, with live music and/or performance shows every night. Iggies, the resort's steps-from-the shore, open-air restaurant and bar, draws patrons from across the island.
A lot has changed in 40 years. The brothers find that most guests, even first timers, know a lot more about what they want to do on their vacation than they did in the past; they have researched the property and the island on the internet and read comments posted by previous visitors.
Other things have not changed. The resort still sponsors a snorkel rum hunt every week, seeding the bay with bottles of Cruzan and telling guests it's "finders, keepers." Paul revealed the event started as a gimmick to get people comfortable in the water in hopes they would graduate to scuba dive lessons. Whether or not that was successful, there's no doubt the rum hunt has become a tradition.
The Doumeng brothers also continue their father's legacy of community service, with Paul observing "we've kicked his butt" in terms of the numbers of organizations with which they are or have been involved.
Those include the V.I. Hotel and Tourism Association, Rotary, Red Cross, Project Safe Neighborhoods, Crime Stoppers, the Boys and Girls Club, Clear Blue Sky and Nana Baby Home. Joyce's special projects include the Humane Society and Lucky Paws. Under Education's Adopt-a-School program, Bolongo maintains a special relationship with students and teachers at Bertha C. Boschulte Junior High School. And the resort frequently sponsors fundraisers and houses visiting artists brought in by non-profit groups such as Arts Alive and the Forum.