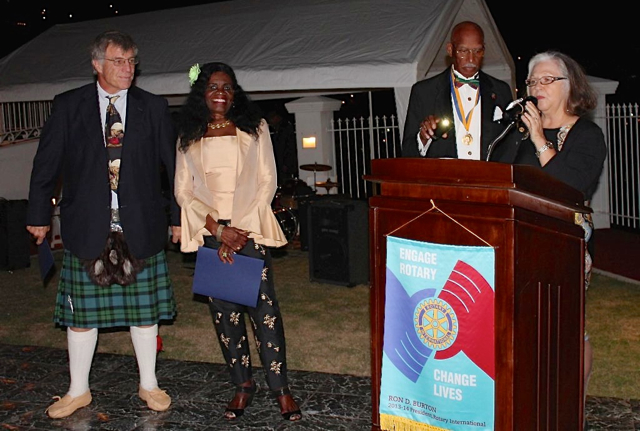 More than 100 people graced Estate Catherineberg Saturday night to witness the 30th Annual Paul Harris Awards, held by Rotary District 7020 USVI North, the first time the ceremony was held at the V.I. Governor's Mansion.
The guests marveled at the sunset view afforded by Catherineberg's strategic perch while being serenaded by student musicians of the Ivanna Eudora Kean Jazz Combo.
"It really is something that we are blessed to be able to do," Gov. John deJongh Jr. said about hosting the event at his official residence, "not only because of the historic nature of the house, its beauty, but more so because of what Rotarians do and what members of Inner Wheel do each and every day."
According to deJongh, Rotary and Inner Wheel are two organizations he considered a pleasure to be associated with in the last seven and a half years.
"My job was made easier each and every day by your involvement in so much of what takes place in our community," he said. "I truly do believe that you represent the best of what the Virgin Islands is, and quite frankly, the best of each and everyone of us."
It was also the first time, said Lawrence O. Benjamin, past assistant governor of USVI North, Saturday's ceremony, that more than two local Rotary Clubs came together to give out awards. Of the 31 new Paul Harris awards, 10 were given out by the Rotary Club of St. Thomas, eight by the Rotary Club of St. Thomas II, five by the Rotary Charlotte Amalie, four by the Rotary East, and three by Rotary Sunrise. The Inner Wheel Club of St. Thomas also gave out one Paul Harris Award.
Presidents of each club under USVI North presented the awards.
The Paul Harris Award, in memory of Rotary founder Paul Harris, is given to any individual who contributes at least $1,000 toward community outreach programs of a Rotary Foundation in any given year. The award can also be given to any individual in whose name the contribution is given to Rotary.
Individuals who pledge to donate at least $1,000 every year become members of the Paul Harris Society, while those who have donated $10,000, whether by gift amounts accumulated over the years or through a one-time donation, are considered major donors.
Sandra Castorena was recognized as a first-time Bequest Society member for giving more than $10,000 to the Rotary Foundation via estate plans.
"It is because of gifts like yours that our Foundation is able to carry out programs throughout the world," Asst. District Gov. Michael Toussaint said to Castorena. "These are programs, such as improving the living conditions of needy families, increased food production and work programs, wider availability of immunizations and medical treatment for the sick and disabled, new channels for the poor, international understanding and greater hope for peace."
The 2014 Paul Harris fellows are:
Rotary Club of St. Thomas:
Sue Boland
Amarylis Davila-Agosto
Vivian Cubano de Crites
Paul Harrison Davis III
Janis French
Daphne B. Harley
Nels Hawkinson
Trudie J. Prior
Walter Seipel
Sandy Castorena
Rotary Club of St. Thomas II:
Cecile deJongh
Erva A. Denham
Genevieve Hodge-Rogers
Penny Feuerzeig
Cassandra Mallory
George Rosenberg
Errol Christopher Williams
Claudia LaBorde
Rotary Club of Charlotte Amalie:
Symra Dee Brown
Lisa A. Hassell-Forde
Cydrenia-Ferness-Charlery
Maureen Richardson
Deon M. Tyson
Rotary of St. Thomas East:
Deborah Bundy
Paul Doumeng
Sharon Ann McCollum
Wesley Williams, Sr.
Rotary Club of St. Thomas Sunrise:
Eastlyn Igwemadu
Mike McKay
Frank Schneiger
Inner Wheel Club of St. Thomas:
Rita I. Coll