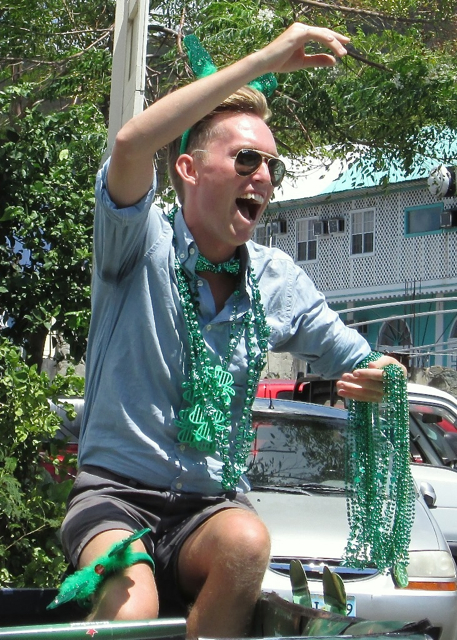 It's still a wee parade, but Saturday St. John's St. Patrick's Day Parade may have broken recent records for longevity. Most years the parade goes 10, maybe 15 minutes at the most. But this year, it lasted about 25 minutes as the parade goers made their way from the Cruz Bay roundabout to the corner by First Bank.
"It's a fine time to people watch," Northborough, Mass., resident Ron Ledoux said as he did just that while waiting for the parade to start.
Many of the troupes sported sponsorship signs from local bars. There was a Zumba group, and the Middle Age Majorettes showed up in a variety of T-shirts printed with bikinis. A hoop group swiveled down the street, and a large contingent from Coral Bay made an appearance dressed in green.
The Animal Care Center of St. John showed up with a troupe and a bunch of dogs. And a group of vacationers visiting St. John, calling themselves the Leprechauns from Enighed, were among the groups that marched.
While a few troupes passed out green hats, even more threw green beads to the crowd that lined the street.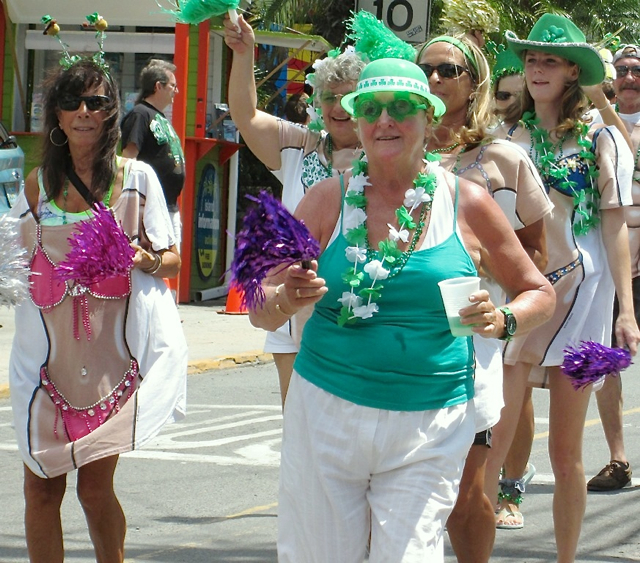 It also seems that there were more people wearing green than in previous years.
"I happened to pack a green tank top," said Hudson, Wis., resident Emily Steffen as she waited near Julius E. Sprauve School for the parade to start.
Like others, she said St. Patrick's Day was definitely a day that calls for a celebration.
Bryan McKinney has some distant ties to Ireland, but the Coral Bay resident said everybody was Irish on St. Patrick's Day.
"The Mick speaks to me," he said, wearing a green T-shirt with his last name printed on the front.
He said the T-shirt was courtesy of his father, who found it in an eponymous Chicago bar. Green beads and a green hat completed his ensemble.
Several groups of vacationers said they attend the parade every year.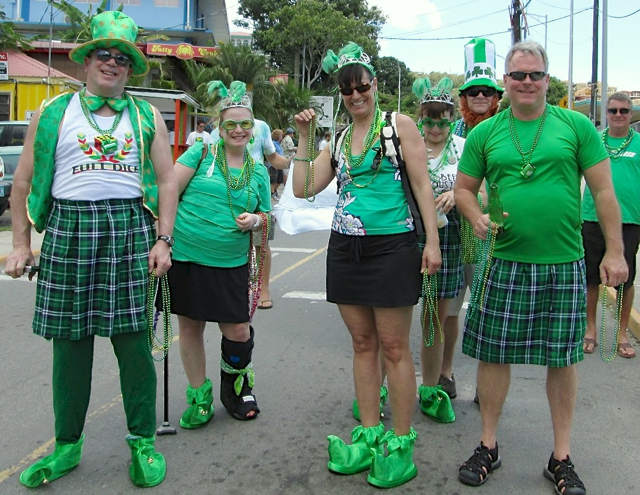 Tim Finegan and his entourage from Whitehouse Station, N.J., had staked out a spot in front of Woody's Seafood Saloon. Wearing a fake and fuzzy green mustache, Finegan said this was his 11th winter vacation on St. John. This year, he added his newlywed nephew and his bride, Connor and Meg Finegan, to the group.
"This afternoon we're going to party," he said.
If they were giving out awards for the most stylish St. Patrick's Day garb, Christine Ransley and Stevie, who didn't want to give his last name, might have won hands down.
Ransley had on a short green skirt and coordinating jacket that shouted St. Patrick's Day. Stevie was wearing a green and white suit reminiscent of upholstery fabric.
"We have couch that matches," he said, laughing.
Don Kelley of Boston, Mass., gave Ransley and Stevie a close second for the St. Patrick's Day attire award. Sporting a huge green foam top hat, Kelley said he's had the hat for years and got it at the South Boston St. Patrick's Day Parade.
"This is a holy day of observation. This is a day when everyone in the world gets to be a little Irish," he said, holding on to his plastic glass of green beer.