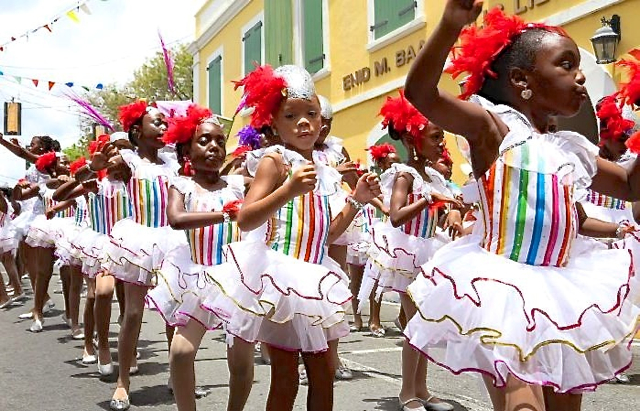 The "Biggest Fete Ever Seen" – the St. Thomas Carnival – will kick off April 5, and Carnival Committee officials are planning all the usual lineup of traditional activities.
The Princess Show will follow on April 13, with three contestants vying for the crown. the contestants were officially presented to the public in February. They are: 10-year-old Richelle Anisa Lancios, a fourth-grader at Lockhart Elementary School; 11-year-old Sh'Nyah A. Bacon, a Julius Sprauve School sixth-grader; and nine-year-old Cemi-Leila John, a fourth-grader at Joseph Sibilly Elementary.
Two weeks of activities will follow, with the Queen Selection Show kicking off at 8 p.m. April 19, the annual Toddlers Derby and Best Dressed Doll contest April 20, and the mini Carnival at Schneider Regional Medical Center on April 21. The district's best junior calypsonians will have a chance to compete again on April 22, followed by Cultural Night on April 23, and the V.I. Calypso Competition on April 24.
One of the most anticipated Carnival events each year is the opening of the Carnival Village, which is scheduled for April 25. This year's honorees, according to Carnival officials, are Percival "Percy" Taylor and David "Dee Dee Sharp" Dawson.
The annual Cultural and Food Fair usually brings hundreds to downtown Charlotte Amalie; this year's event is scheduled for April 30 with the theme "Charles and Joe's Flamboyant Garden," honoring local farmers – and brothers – Charles and Joseph Leonard.
J'ouvert is expected to kick off early on May 1, V.I. Police Department officials have said they will concentrate heavily on security to make sure that this year's event does not get shut down, as it was last year when three people were shot. VIPD holds a press conference each year to go over various safety concerns and regulations, but officials began getting the word out early, saying they will focus on designated patrol areas, working with the V.I. Water and Power Authority to make sure there is proper lighting during village and other festivities, and will patrol local neighborhoods over the next few weeks to uncover disputes that could resurface during the Carnival events.
This year's Children's Parade marshal will be Alfred "Chubby" Lockhart Jr., who will be at the head of the line when the event kicks off May 2. Lubin "Butch" Roberts is slated as the marshal of this year's Adult's Parade, which is scheduled for May 3.
The Adult's Parade always signals the tail end of Carnival, which wraps up each year with a spectacular fireworks display in the evening over the harbor, in front of the Carnival Village. Carnival officials have recently spoken about scaling back the display, to save on money that they said they're waiting on the government to allot to cover expenses.
For a full schedule and up to date news, visit: http://www.vicarnival.com/.