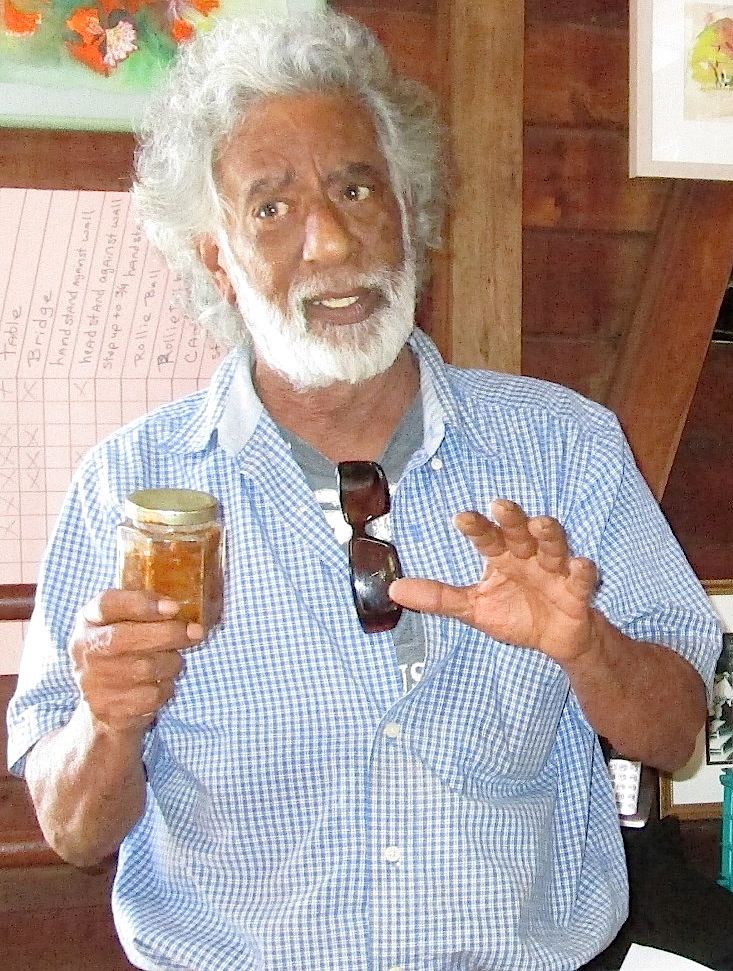 Wear gloves, advised Charlie Deyalsingh as he led a group of about 15 people at a Friends of V.I. National Park seminar Wednesday on the ins and outs of making pepper sauce.
Deyalsingh, known far and wide as Trinidad Charlie, has made a name for himself as the king of peppers. He whips up five varieties of his namesake sauces in a tiny kitchen tucked away at his modest house on St. John.
When those at the seminar asked him for a recipe, he had some advice.
"I believe in developing your own original recipe," Deyalsingh said to the group assembled at the St. John School of the Arts.
That said, he told them to start with a pound of peppers of their choice – he likes habanero best but Scotch Bonnet will do – add a few cloves of garlic, half an onion, salt, vinegar and a little oil to come up with a basic hot sauce.
"Put it in a food processor and pulse till minced," he said.
Deyalsingh said he prefers apple cider vinegar because it has more body. However, he said, other hot sauce makers use white vinegar because it's cheaper.
According to Deyalsingh, it only takes about 15 minutes to whip up a batch.
"And the shelf life is forever," he said.
Deyalsingh adds some of this and a little of that spice to come up with his trademark hot sauces, he said, adding that while he does import spices, he grows peppers and other materials at his house.
Deyalsingh said he makes his hot sauces in small batches because it's what he can handle and what he can easily distribute to customers who sample his sauce at some of St. John's restaurants. They find him through his website and he ships the hot sauces anywhere, he said.
Deyalsingh said he cut his hot sauce teeth while growing up in Trinidad in the 1950s. A consummate storyteller, Deyalsingh talked about how he and his friends made mango chow to eat as a snack using slivers of half-ripe mango, salt and hot peppers.
"The hotter the better," he said.
He said that kidney mangos work best for hot pepper products because they're stringy and the sauce clings to the pieces.
When Deyalsingh moved to St. John in 1968, he found a paucity of hot peppers, he said, so he began importing them along with spices from Trinidad and later from the mainland.
He started off making the hot sauces in small batches just like he does now but he bottled them in whatever castoff bottles he could find. He's since slicked up that portion of his operation and buys bottles as well as labels that carry a drawing of his face.
Deyalsingh said that he saves bottling his products for the middle of the night when cricket comes on the television. He fills the bottles as he watches the matches, making a tedious task pass quickly.
In response to a question from one of the participants, Deyalsingh said he takes as many seeds out of the peppers as possible but always misses a few when making his hot sauces.
He said that the peppers have a lot of medicinal value.
"At my age, I haven't been sick at all," he said, giving his age as 101 but later telling the truth – 69.
With Deyalsingh's Pepper Sauce Making seminar, the Friends are about two-thirds of the way through the season.
Friends program manager Karen Jarvis said there is space left in all the remaining seminars but "some have more space than others," noting that the later in the season the seminar, the more crowded it tends to be since people often sign up late.
Jarvis said she hopes more people sign up for the seminar that teaches about the impact of the lionfish on the territory's reefs. It runs March 26.
She said people have been slow to sign up for that one, as well as for the Eco Spa Mud Bath on April 9.
For more on the Friends seminars, visit www.friendsvinp.org.
Learn more about Deyalsingh at www.trinidadcharlie.com.