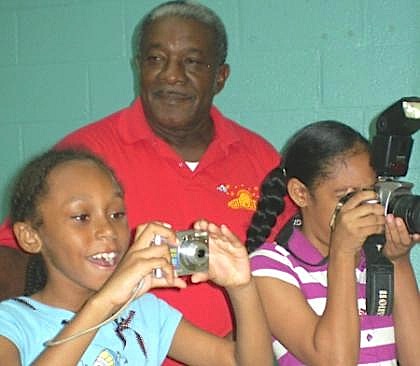 Kenneth "KC" Christopher, the beloved, long-time photographer for the Legislature on St. Croix, passed away suddenly over the weekend, bringing an outpouring of regrets and condolences to his family from the senators he worked with for many years. Christopher was at work, as usual, at the Legislature on Friday afternoon.
"His legacy in the field of photography leaves a body of work that chronicles every facet of Virgin Islands life and culture," said Sen. Myron Jackson.
Recalling how he first came to know Christopher through his early career with the Home Journal and the Daily News, Jackson said his visits to the family bushiness were always filled with lively discussions about the state of affairs of the territory.
"His sharp eye for detail and relevance can be seen in how Kenneth captured his subject," Jackson said. "During my short tenure at the Legislature, we would chat about his photographs and the welfare of his beloved daughter and the state of the territory's affairs."
"No man knows the time or the hour of our departure from this life," Jackson said, noting Christopher's passion for his family and community and extending Jackson's regards and condolences to the family.
"Over 29 years ago, I had the pleasure when I served as vice-president of the Legislature to have hired 'KC' as the official photographer of the Legislature," said Sen. Alicia "Chucky" Hansen. "He was dedicated to his work and was always very pleasant, even when he was in pain," she said, giving her condolences.
"In knowing Mr. Christopher personally and professionally, it has certainly been an honor to interact and work with a man of his caliber," said Sen. Tregenza Roach. "He is truly deserving of immense recognition for his years of service as an employee of the Legislature of the Virgin Islands."