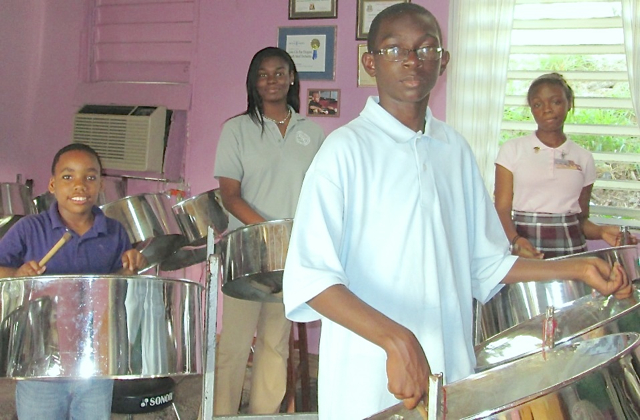 Not long ago, it was considered cool to belong to St. John's Love City Pan Dragons youth steel pan group. But the lure of electronic devices and lack of push by parents have taken their toll on the membership.
President Elaine Penn wants to change that, and has launched a drive for new members.
"They learn discipline, hand-eye coordination and memorization. They learn to work together and it's a good self-esteem thing," Penn said.
Shomari Dyer, who shares instruction duties with Ikema Dyer, said the program helps keep youths off the street.
"It gets them involved in their own local instrument and gives them a better understanding of music," he said.
Ikema Dyer was succinct in his reason as to why he thinks the program is important.
"It keeps them out of trouble," he said.
Some of the half dozen youths who showed up for a recent practice were enthusiastic about the Pan Dragons.
"The best part is playing music and dancing," Kirton Monsanto, 8, said.
Kemisha Hoheb, 14, said the Pan Dragons "were all about music," and that's what she loves.
Monique Edward, 15, said the members are like one big family, an aspect of participation she enjoys.
Ronnie Lee Jr, 13, likes how the music sounds.
"And how easy I catch on to it," he said.
According to Penn, learning the first song takes a month and after that, it only takes about a week to learn others. The youths play everything from calypso to pop, along with the "Star Spangled Banner" and the "Virgin Islands March." The Pan Dragons have often starred at St. John Festival events and at other activities across the territory throughout the year.
But with dwindling membership, Penn said, it's hard to put a group together to make appearances. Without sufficient members, it's difficult to attract grants such as the $30,000 one several years ago that allowed the group to buy much-needed new steel pans.
Youths as young as six have joined, but Penn said the usual starting age is around 8. She said many continue to play throughout high school, and if they're attending the University of the Virgin Islands on St. Thomas, even into their college years.
The Pan Dragons got their start back in the mid-1990s as a crime prevention program call the Ghost Riders Steel Orchestra. In 1998, the named changed to Love City Pan Dragons, and since then the group has issued two CDs featuring their music.
Penn has been involved in the Pan Dragons since her daughter Audrey Penn was a child. Her daughter is now many years past participation age, and Penn hopes that someone will step up to help.
She also said that even if parents don't volunteer to help out, they still need to drive their children to practice at the Recreation and Sports building located across from the Cruz Bay fire station. Practices are at 5 p.m. Fridays and noon on Saturdays.
"The bus doesn't run on weekends," she said.
Parents can sign up their children by calling Penn at 1-340-998-3726. More information is available online at www.pandragons.org.