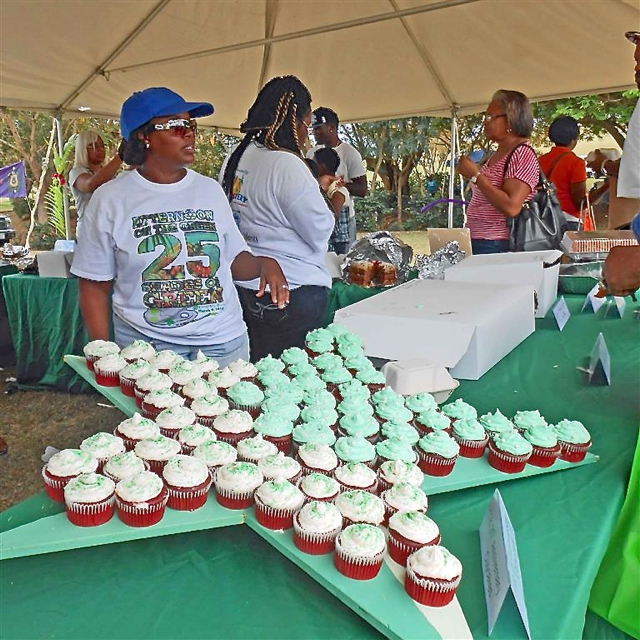 The damp grounds of the University of the Virgin Islands Herman E. Moore Golf Course were filled Sunday with hundreds eager to celebrate the 25th anniversary of UVI's Afternoon on the Green.
Some would say the god of rain responded a little too enthusiastically to this year's theme – "25 Shades of Green" – what with Sunday's intermittent rains. But umbrellas popped up when needed, and the spirit of the island's most popular picnic prevailed.
Rain don't stop the picnic.
In fact, most folks seated beneath the trees munching on treats while enjoying the entertainment, agreed the raindrops provided a welcome cooling.
The event committee had been meeting since September, said Liza Margolis, UVI senior coordinator of donor relations and special events, to make sure the 25th anniversary is bigger, better and more memorable than any other year.
And the efforts of the committee led by co-chair Cheryl Miller, paid off handsomely. Miller is a community fixture, known for her Mango Mama's Hot Sauce and for her Pistarkle Theater costume designs.
The territory's first symphony orchestra, the V.I. Philharmonic under the baton of founder and conductor James Gumbs, made its second appearance at the celebration this year, alongside such standards as the Mungo Niles Cultural Dancers, without which any community affair would be bereft, the lively Cherubin Wesleyan Methodist Dancers, the Spectrum Band, and, new this year, Flip Switch. It started off with the playing of the E. Benjamin Oliver Elementary School Owls Steel orchestra.
Community members were invited to donate a dish, which accounted for the wide variety of culinary items. The dishes went for $3 for a healthy-sized taste, and the cook receiving the most votes was to win a trip for two to St. Croix. Prizes were to be awarded to cooks in categories including pastries and sweets, soups, native drinks, vegetables or casseroles, main dishes/meats/poultry, seafood, and breads. The winners will be announced on the UVI website.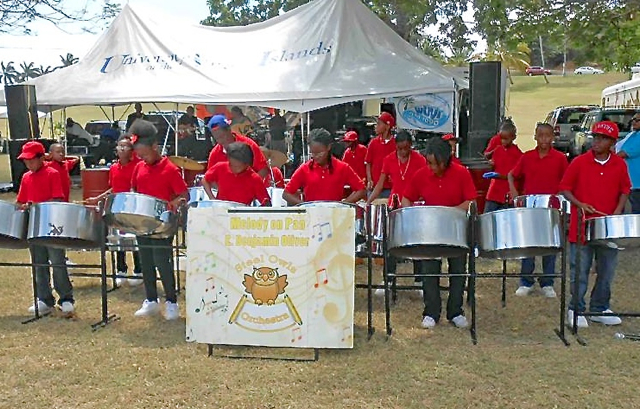 The food on hand was a boundless bounty from many cultures. New Orleans-style jambalaya, Filipino egg rolls, local dishes ranging from local baked macaroni and cheese, red pea soup with pork and without pork, bull-foot soup, goat water, potato stuffing, salt fish balls, Caribbean chicken wings, and, of course, kallaloo, to an array of vegetarian dishes ranging from an eggplant lasagna to a vegan chocolate cake and a pumpkin cheesecake.
The latter were highly touted by Senate President Shawn-Michael Malone, who indicated he had something to do with the cheesecake.
"Well, actually my staff helped," he admitted.
Malone, a regular visitor, lauded the event. "It's such a good thing for the community. It not only provides scholarships, it brings folks together for a good afternoon."
That sentiment was echoed all over the celebration Sunday. Local resident John Hebert, while munching on a shrimp dish, said, "It's wonderful. It's so good to see something where everybody is having so much fun, and something where the youth are so involved, giving them something good to do."
Hebert came at the urging of his wife, Suzette, who has become a regular attendee.
"And I'm so glad. It's even better than she said," Hebert added.
New this year were a few exotic little dishes, including little round Bailey's Irish Creme desserts, offered by Monica Turpin and Adam Wagner.
'It's really my boyfriend's passion for food that inspired us," she said. Turpin and Wagner, of 105 Jamz radio, plan to open a restaurant in the near future she said. "It will be an upscale lounge, she said, located behind the Windward Passage Hotel.
The most eye-catching dessert was the work of Charlotte Amalie High School senior Brianna Hairston, who presented an array of green and white cupcakes on a green star in honor of the day's theme.
Hairston is no stranger to the celebration. She received the "People's Choice" award last year for her Topical Coconut Cupcakes. In 2012, she received the award for her vanilla cupcakes and in 2011 she received first place in the Pastries and Sweeties Category for her Red Velvet Cupcakes.
The engaging teenager talked about her plans. Last year she told the Source she might pursue a "culinary career or dentistry or journalism." Now, this year, it's maybe something in science. Or maybe the stage. She was one of five finalists in the recent high school Poetry Out Loud competition.
This year's academic tent displayed information from each of UVI's schools and colleges, along with Access and Enrollment, the Small Business Development Center and the Cooperative Extension Service, and its year old radio station, WUVI.
A novel addition to the academic tent this year was the Argument Booth. It's the invention of VI Noah Stolz and Zane Birnie, upper school students at the Montessori School and Peter Gruber International Academy.
"We will argue with you about anything," Stolz said, showing a list of items to inspire potential arguees, running from the weather to lying and politics. There were no arguees lurking about so the Source selected "lying."
"I believe in lying," said Stolz, adding "I could be lying to you right now."
You get the idea. Their heroes are Monty Python, from whom they got the idea, and George Carlin.
This year's first title sponsor was the V.I. Lottery, which has partnered with the university in the past and was a corporate sponsor for the first Man-Up Male Empowerment Conference.
The yearly event is also sponsored by West Indian Company Ltd., First Bank, V.I. Waste Management Authority, V.I. Council of the Arts, Pro Solar, VI Auto Club, MSI, Merchants Bank, the West Indian Company, Choice Communications, the V.I. Port Authority and 104.3 The Buzz.