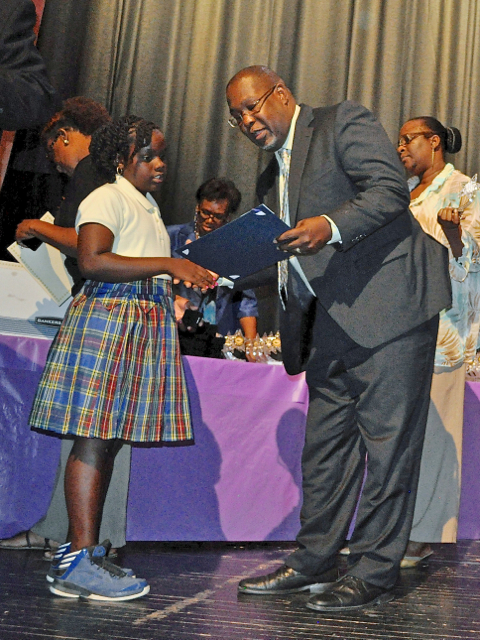 Education officials, students from the St. Croix district and loads of families and friends packed the St. Croix Educational Complex Auditorium Sunday afternoon for the fourth annual high achievers recognition ceremony.
This year's ceremony was officially dubbed the Winona Sackey-Joshua Fourth Annual Shining Stars Celebration, in memory of the education department's director of data and assessment, who died in September 2013. The event marks the district honoring this year's 187 students who scored in the 80th percentile or higher on the 2013 VITAL-S or VITAL-A exams.
The VITAL exams, which stands for Virgin Islands Territorial Assessments of Learning, were first administered in 2005 and are now given annually to students in grades three to eight and 11 to measure their ability in reading, mathematics and science.
"These tests measure what our students actually know against the Virgin Islands standard," said St. Croix District Superintendent of Schools Gary Molloy. "It's very important and very exciting to know that those sitting here among us are our very high achievers and our shining stars."
"You should be very, very proud of yourselves and know that we are extremely proud of you," said Delegate Donna Christensen, a candidate for governor. Christensen also praised the student's parents, adding that "these shining stars would not be shining here today without you."
Christensen said she was leaving the ceremony for Washington D.C. "encouraged, inspired" and with a vision that had a bright light at the end of the tunnel for the Virgin Islands because of the shining star students that would one day lead it.
Also in attendance and making remarks was Gus Vargas, the president of Simplex Learning.
Molloy said working together, Vargas and Mrs. Sackey-Joshua helped drive the territory from a pencil and paper type of data environment to the one now using a complex and robust computer system to help it analyze the St. Croix public school system.
"What started as a vision between Mr. Molloy and Mrs. Joshua in 2010 is now a reality," Vargas said. "The vision was to make data that wasn't readily available, available."
How that's been accomplished, Vargas said, has been by implementing an information technology system called "data dashboards," which brings data in some external school system and presents it to the principals and school administration officials in a friendly, pictorial sort of way, the idea being it will provide the real-time data necessary to those who need to make decisions for a school or for the district at large.
For one example, Vargas showed data that indicated overall district attendance was up so far this year to 91.7 percent from 90.9 percent last year.
Diving deeper into that data, Vargas explained the attendance problem was the greatest at the elementary school level, where he showed the attendance levels in a month to month comparison.
"The whole community needs to know that we have an attendance issue in elementary. It's an issue," Vargas said. "National trends are the opposite."
Vargas showed how administration officials in the various schools could then use the attendance data to immediately drill it down to the individual students who missed a certain amount of school. With that information, he said, the school could contact parents or arrange for the appropriate steps to be taken as the problem was occurring.
"They (school officials) have data coming to them in a way that they can make decisions with. The data is easier to manipulate and there is less hands on the data," he said.
"The district is using a tool that most Fortune 500 companies use, and the end product of this is students benefit and leaders are making decisions based on better data."
Vargas cited Nike and Coca-Cola as two companies using the same system as St. Croix and said many schools nationwide would soon use similar systems.
Molloy added that a parent portal was scheduled to be implemented in the coming months that would allow parents to login on a computer and see their child's grade and attendance data in real-time.
This announcement was greeted by applause and marks an important milestone for the district, because as Molloy put it, "The data drives everything that we do."
But Assistant Commissioner of Education Sarah Mahurt made clear that even though the data is driving the current decision making, it was Mrs. Joshua who wanted to use the data to benefit each and every student in the district.
"She really cared about the students who each of those data points stood for. She wanted everyone to be successful," Mahurt said. "She didn't just think about the numbers, but what can we do differently to make each child succeed."