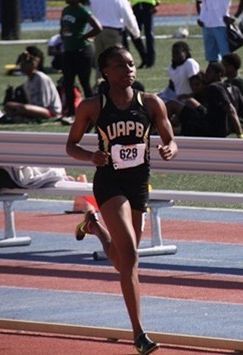 Ninfa Barnard, a graduate with honors from the St. Croix Educational Complex High School and the University of Arkansas Bine Bluff, became the first Virgin Islands woman to run under five minutes in the mile. She did it at the Samford Multi and Invitational Meet in Birmingham, Alabama, with a finish of 4:59.46. She came back to take first place in the event at the Southwest Athletic Conference Indoor Championships in New Orleans with a time of 5:03.99, which was followed by a win in the 3000m with a time of 10:00 and then second in the 800m in 2:12.64, according to a press release issued on Tuesday by the Virgin Islands Track and Field Federation.
Barnard graduated with honors in the pure sciences from the University of Arkansas Pine Bluff in 2013, yet she had an indoor season of eligibility remaining in her college career. Now she is working on a master's degree and teaches biology at her alma mata as a student assistant. A graduate of the St. Croix Educational Complex High School, Bernard competed two years on the school team including her freshman and sophomore years. She was limited to competing with her St. Croix Track Club her junior and senior years on the grass at the University of the Virgin Islands St. Croix Campus before receiving a full scholarship to the University of Arkansas Pine Bluff where she earned numerous academic and athletic honors including SWAC Conference MVP.
She also helped her school team to SWAC second place in the distance medley relay and fifth place in the 4 x 400m relay in this year's conference championship. She intends to represent the V.I. in the CAC Games in Vera Cruz, Mexico, this year. She excelled in cross-country, indoor track, outdoor track and road racing on St. Croix including multiple victories in the women's race.
Her goal is to represent the Virgin Islands in the Olympic Games. She will train and travel with the University of Arkansas track team to competitions. When in the territory, she will train with the St. Croix Track Club and mentor young athletes in the group.
For more information, logon to: http://virginislandstrackandfield.org, e-mail: [email protected] or call 643-2557.